Give Her a Gift She Will Cherish With Not Just Any Old Day

We all have days that hold special meaning in our lives. I have several. The date my husband and I got married is one of the most important days of my life. It is the day that I will never forget. We didn't have a traditional wedding and exchanged our vows in front of the Justice of Peace in the town where I grew up. Two of our children were there and honestly I love that we didn't have a huge expensive, stressful wedding.
When I heard about the company Not Just Any Old Day and that I would have the opportunity to work with them I was excited. Not Just Any Old Day provides their customers with beautiful jewelry and gifts that are personalized with dates that are special to the gift recipient. They make the perfect gift for anniversaries of all kinds, graduation gifts and more.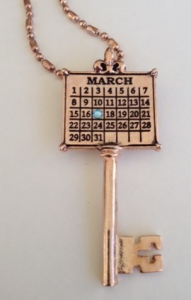 Not Just Any Old Day sent me a beautiful necklace that I had the opportunity to have personalized with a very important date. I have several, the days each of my children were born, the day I graduated, the day I met my husband and my wedding day are just a few. I decided to go with my husband's and my wedding date. We were sent a "Your Special Day" ROSE GOLD Calendar Key with Swarovski crystal necklace free of charge to review. I was extremely happy with my necklace. It is beautiful and you can clearly see the date that I picked and how detailed the necklace is.
If you would like more information or if you would like to purchase a "Your Special Day" ROSE GOLD Calendar Key with Swarovski crystal necklace, please visit the Not Just Any Old Day Webite. Be sure to stay up to date on all of the latest news and products from Not Just Any Old Day by following their social media pages on Facebook, Instagram and Twitter. While you are there, be sure to follow Mom Blog Society on Facebook.
Disclaimer: Mom Blog Society received product free of charge to write our review. All opinions stated in our review are our own truthfully opinion and were not influenced by the sponsor or from getting the review product free of charge. We were in no way compensated for our review or opinion.