I received the Planes: Fire & Rescue 2 pack of puzzles earlier this week, and I've already lost count of how many times we've put it together.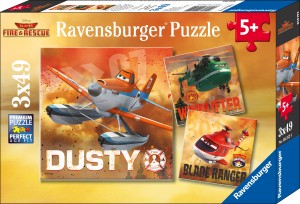 My son, Jacob, age 3, loves this double pack of puzzles. It says ages 4+ but as long as we help him, he has no problem putting it together. By helping, I don't mean doing it for him, but guiding him in the right direction. I'm really enjoying this one on one time with Jacob. He's getting so good at putting these together. Even grandma has done it numerous times.
It's so much fun to sit down with Jacob and have something to do that's a little time consuming. He does listen when you tell him where to stick the pieces, and it's all good fun.
There's a puzzle for everybody in your family available, including:
• Planes: Fire & Rescue: Real Rescue Planes – 3 49-pc puzzles of the three main character planes – Dusty, Windlifter and Blade Ranger. Ages 5+, SRP $11.49
• Planes: Fire & Rescue: Fighting the Fire – 100pc XXL Puzzle the measures 19.5″ x 14.25″ when completed. The image is a mid-air scene of the character planes. Ages 6+, SRP $13.49
• Planes: Fire & Rescue: Always In Action – 2 24-pc puzzles that when completed measures 10″ x 7″. One scene depicts the fire house with the helpful fire rescue vehicles, and the other of the planes in flight. Ages 4+, SRP $11.49
• Planes: Fire & Rescue: Glorious Rescue Team – a 150pc XXL Puzzle with finished dimensions of 19.5″ x 14.25″. The scene is of the airborne planes and the fire rescue vehicle on the ground. Ages 6+, SRP $13.49
I ordered the 2 24 piece puzzles for Jacob because of the age on them.
They also included 2 posters of the puzzles.
You, too, can win one of the above posters, by simply going to the link to the right.