♥ Forget About Fingers, Invest in a Quality Teething Toy
Babies are always coming into this world bringing life and adventure to new and
experienced parents.

Teething is one of the most important, yet uncomfortable, processes a baby goes
through. For Jubilant Baby, there are many ways to deal with teething and the most
natural is to let your baby relieve the pain through chewing. No medicine and no
fingers!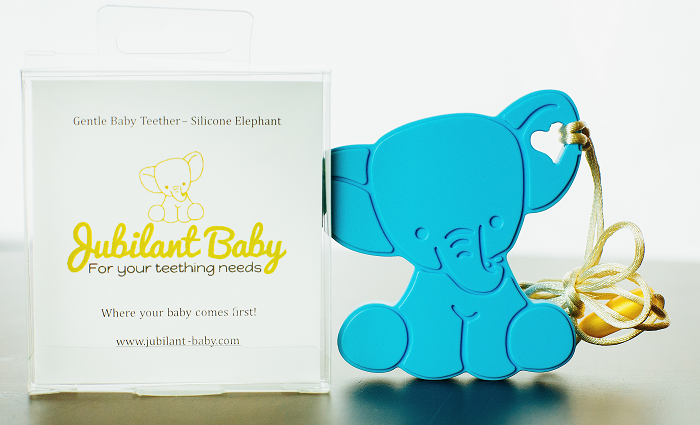 ♥ Who is Jubilant Baby?
Jubilant Baby is a small, woman run and owned business that truly cares about your
baby's comfort and happiness. We have designed extremely durable, vibrant and
adorable baby teether toys. Our designer teethers are loved and approved by both
babies and mothers.

♥ What's Inside – 100% Non‐toxic
Our teethers are made from 100% food‐grade silicone that is FDA approved, BPA‐
free, phthalates‐free and lead‐free – because a parent should never worry about its
baby being exposed to harmful toxins.
Our teethers are lightweight and babies find them easy to hold, put into their
mouths and fun to play with.

♥ What's Included – Versatility
Each teether comes with a soft silk cord and clasp so you can wear the teether while
breast feeding or holding your baby. The cord can be removed from the teether at
any time. Many parents loop the cord around strollers, car seats, high chairs, cribs
and other handy places so that the teether doesn't fall to the floor. It is important to
note that to avoid a choking hazard, the cord must be removed before handing your
baby the teether. The purpose of the cord is for an adult to wear the teether while
holding the baby.

♥ Great Baby Shower Gift
Each teether comes in gift‐quality packaging and a gold info card. Many people
purchase our teethers as presents for expecting mothers.

♥ Easy to Care
Washing and caring for our teethers is easy with mild soap and water. You can also
wash our teethers in the dishwasher with your bottles, nipples, baby cups and
dishware.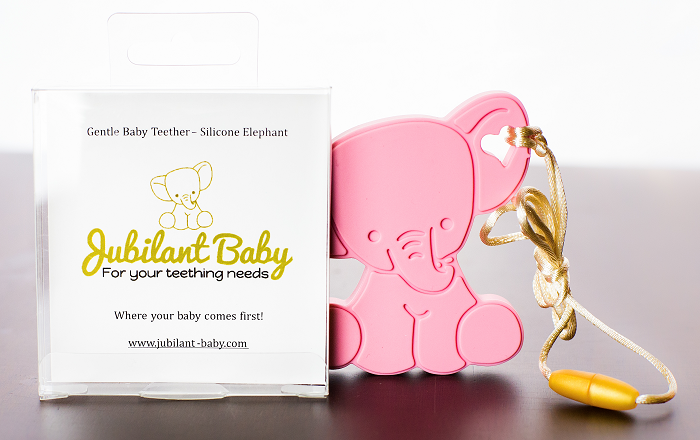 ♥ Quick Specs
♥. Safe ‐ FDA approved, BPA‐free, phthalates‐free and lead‐free.
♥. Hypoallergenic ‐ No risk of developing rubber/latex allergies.
♥. Sensory ‐ Bright colors to keep your baby's attention.
♥. Simple ‐ Easy to grasp and hold on to.
♥. Durable ‐ A firm, but giving surface to chew on.
♥. Gentle ‐ A soft, smooth feeling when rubbed against swollen gums.
♥. Cool ‐ Able to be chilled to soothe sore gums but not too cold to hold.
♥. Clean ‐ No yucky taste or smell and really easy to clean.
♥. Waterproof ‐ Toy for the bathtub! And 100% drool proof guaranteed.

♥ Parent Testimonials
Non‐toxic, affordable, and extremely durable ‐ what's not to love? You've heard a lot
from us, but here are some parent testimonials:

"My 9 month old has six teeth and bites the heck out of this thing. No signs of wear
or tear on it."
"I love that it has a string attached to it which makes it easy to carry."
"This teether has been a life saver."
"It's super high quality and adorable."
"Our son wouldn't use teethers before we gave him this one."
"It even smells good; not like rubber or plastic as I expected."
"This teether has been a life saver."

♥ Treat Yourself & Your Baby
Visit Jubilant Baby's website today to purchase a teether today!
Simply go to: www.jubilant‐baby.com
Connect with Juliant Baby: Facebook | Twitter | Jubilant Baby