With friends and family becoming new parents, baby showers are quickly appearing on the horizon. Getting presents for a baby shower or new parents can be a little difficult, especially when it comes down to what exactly they need. To help you plan and prepare, here is a simple guide on what to give new parents.
Babywear
Babies are messy and always need clothes. Good babywear will not only keep them warm, it will also make them feel safe and healthy. It's always a safe gift to give new parents organic babywear as it is durable, money saving and won't irritate the babies skin. Plus, it comes in so many styles, colors and textures to perfectly suit their babies needs. From singlets to jumpsuits, wearable wraps to pants, there are many different options to choose from and can be given as gifts for long after the baby is born.
Travel
Going on walks with a baby can be one of the most fun and memorable times for a new parent, but without the right things, it can be stressful and dangerous. Getting new parents a pram, stroller or baby carrier can really help the parents keep up with their social lives and go out and about with their baby, creating family memories. You can learn from this page about how to pick out the best stroller combo for your friends little one.
A baby carrier or sling means you can keep your hands free while you're out but they aren't a good idea in hot weather because your baby can overheat. With a baby pram or a twin pram if they are expecting twins, parents can alleviate some of the stresses. Since it doesn't give the parents back and shoulder pain due to carrying them and if a child falls asleep, they have a place to lie down and it protects the baby from the elements.
Bathing gear
Bathing a newborn child is one of the most intimate things a parent does with their child and is a necessary task to keep a baby happy and healthy. However, with the need to bathe a baby comes a lot of products, time. This is because babies need very different products to adults since they are smaller and their skin is far more delicate. Getting new parents a specialized bathing tub or accessories and products, such as bathing mats and organizers, can really help them keep their baby happy, healthy and clean; leaving the parents to stress-free and relaxed.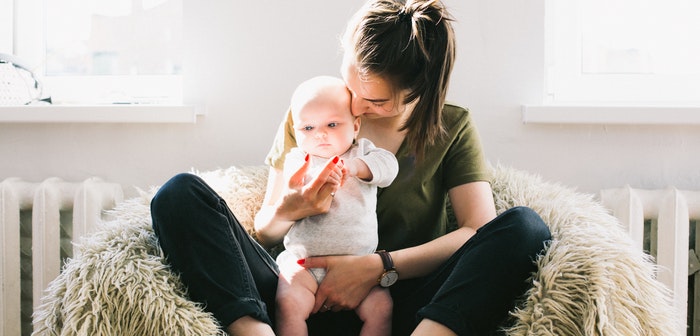 (source:https://www.pexels.com/photo/woman-holding-baby-while-sitting-on-fur-bean-bag-698878/)
Food and cookware
Eventually, babies go off breastfeeding and move to pastes, sauces, and soft foods. This can be an extremely messy task if you are making the food from home. However, with help of gadgets, it can be made simpler and, thankfully, cleaner. Getting the parents a baby food maker, Baby Food Dispensing Spoon or bibs can really help the family, in the long run, not just when the baby is first born.
Toys
Babies are curious and eager to learn about the world, and they have much to learn. Every shape, color, texture, taste, and sound is a learning experience for them. Giving baby toys as gifts will help stimulate them, whilst also helping them to discover their senses.
Rattles and toys that make music are favorites of infants. Toys with contrasting colors are fascinating to babies and stimulate their developing vision. As they grow, babies can use toys to explore object permanence and cause and effect relationships. They also need objects such as blocks to help them build motor skills and hand-eye coordination.
Buying gifts for new parents can be a little difficult. However, in the end, if you listen to the parent's needs and are there to assist them, then you're already helping to make their parenting journey easier.