PowerIt Jump Starter Kit for those unexpected moments when your car doesn't want to agree with you so much. We have all had those bad times when your car just doesn't want to cooperate, or it's just one of those days that hasn't gone as well as the others for the week. It's never the big things that we let get to us, that make us blow up, it's always the tiny thing at the end of the now shortened fuse. Something as easy as your car battery not wanting to start. Being able to at least try to jump start it without having to wait for someone makes it seem a bit less stressful. Majority of the time with my vehicles they are never giving me huge problems, just little problems that could be fixed simply by having the right piece of equipment or tool. You can jump start your vehicle with the portability of a great supply kit from PowerIt if a problem like this occurs.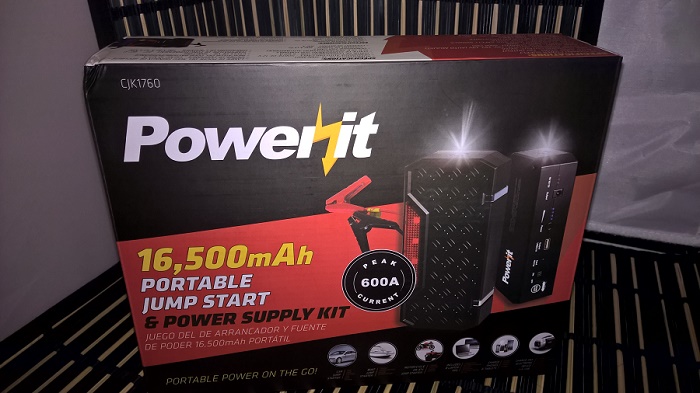 What is in the Box
Power It CJK1760 Jump Start power supply – UL AC Power Adapter
DC Car Charger cable
Notebook Adapter Cable – USB Cable – Includes 8 tips
Alligator Battery Clamps
Warranty Information
Guide Booklet
Carrying Bag
Specifications
!6,000 Mah Power Supply
Auto Jump Start – 12v Output
USB Charging Output – 5V/2A
Laptop Charging Output 12V, 16V, 19V (Auto Adjustable)
Jump Start Peak Curent 600A (3s)
Starting Current – 300A
LED FLashlight with 'SOS' Safety Signals
Power Input – CC/CV 15V/1A
LED Indicator For Battery/Power
Life Cycle – 1000 Timees
Operating Temperature from Negative Twenty to Sixty Degrees Celsius
Dimensions are 186 x 42.5MM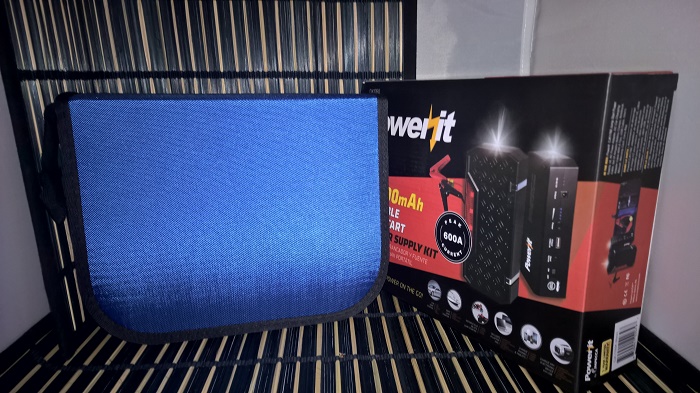 The Jump Starter Kit from PowerIt could possibly turn a terrible day into a great and easy fix. I have had car battery problems countless times in the past, and I'm sure I will re-occur these problems with other vehicles in he future. So it is good to know that we have portable Jumper Cables that don't require another vehicle to help with the process. I can't express the stress free experience given to me by having this in the back of my vehicle. I keep a spare old fashion set of Jumper Cables as well because you can never be to careful.
I always use the PowerIt Jump Starter Kit now even in the case of other people having the battery problems. Someone could always need a jump and not have Jumper Cables of their own. The PowerIt Jump Starter Kit makes it easier to help without the hassle of pulling my vehicle up as close as I can and hoping the Cables reach each battery. After the experience given to me with the PowerIt Jump Starter Kit, I can confidently say that a portable jumper cable kit will always be in the vehicles I drive. Get one today from Impecca.
Connect with PowerIt: Shop | Facebook | Twitter |
Disclaimer:
This product was received from the Company for review purposes only. All thoughts and words in this post is my own and I was not paid to endorse it. I am only voicing my opinion about this product.