Disclosure: Howdy everyone, I wanted to inform you that I was not compensated for this post. However, I did receive a product and the opinions expressed in this post are 100% my own.
This past weekend the Night Helper Blog had the honor of celebrating with our 2014 Wedding "Pay It Forward" Winning Couple!
This wonderful couple was married on July 25th, 2014 with the help of many awesome sponsors who all came together to help make their wedding day "Special"!
The Night Helper Blog would like to send a big THANK YOU to each company for joining in with offering a few great awesome products from their line.
Our first features will be gifts for the Brides provided by Calgon, Lunchboxcom
Calgon was kind enough to send us 10 bottles of their wonderful scented Body Mist & Body Fantasies which every one of the girls enjoyed!! Here are just a few:
Calgon®Hawaiian Ginger 8 fl oz fragrance body mist:The dazzle of island sunshine and the exhilarating rush of exotic fruit.
Calgon® Morning Glory 8 fl oz fragrance body mist:The delicate hush of a perfect morning and soft petals swirling all around you.
Once again Thanks Calgon!!
Next we have the Lunchbox.com company! I thought this was a very cool idea to add to the Bridesmaids gift bags also. The LunchBox.com company provided us with 5 of their metal lunchboxes.
I know you may be saying what did they do with metal lunchboxes? Well, my creative youngest daughter designed each one with the name of each bridesmaid and we filled them with little gifts inside and placed them in the gift bag. Here is the first one she did for Nataiya….cute wouldn't you say!!
The great thing about Lunchbox.com metal lunchboxes is they are very sturdy and can be used for many different things besides adding your lunch. They're great for idea's like Bridesmaid gifts and for keepsake items. I know the girls will forever have something to remember the Brides Wedding by each time they bring out their cool lunchboxes!! Such an awesome idea…..THANKS LUNCHBOX.COM
Next we have the KarmaKiss Rosebud Lip Balm/ Lip Gloss, they were kind enough to send us 4 lip gloss to share in the Bridesmaids gift bag too.
Omgoodness are they adorable and the colors fit just right for the wedding too. Each one has its own scent and are made with vitamin E and without harmful Parabens & Phthalates. I like how convenient the size is and how the cute pink rose adorns the top of each pot, the girls love them! THANKS KarmaKiss!!
Now we are getting ready to share with you a unique way to make your wedding day even more special actually you can make any day special with these Kaleidoscopes that were designed with the groom and bride image on them. WOW, everyone was blown away by these awesome scopes. I will have to say I have never ever seen anything like these Kaleidoscopes before!! The bride and groom's guest were very impressed by them and spoke about them all night long. As a matter of fact, they were all gone before the evening ended!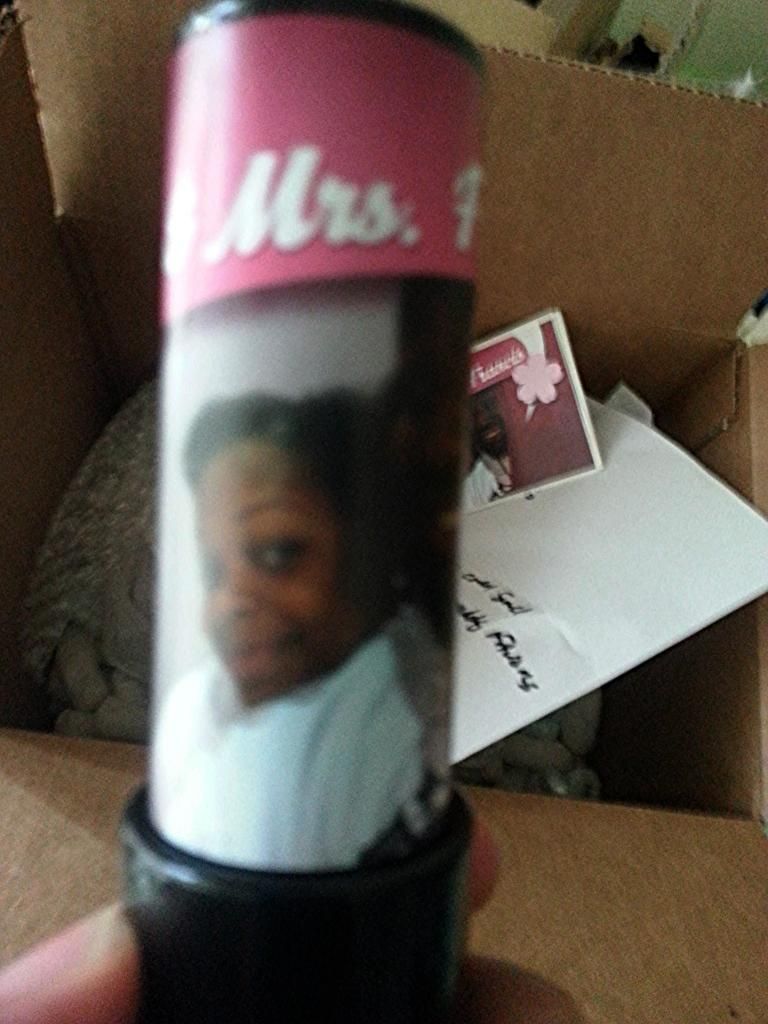 We placed them alongside their candy table so when people walked into the reception room they could grab their Kaleidoscopes for keepsake!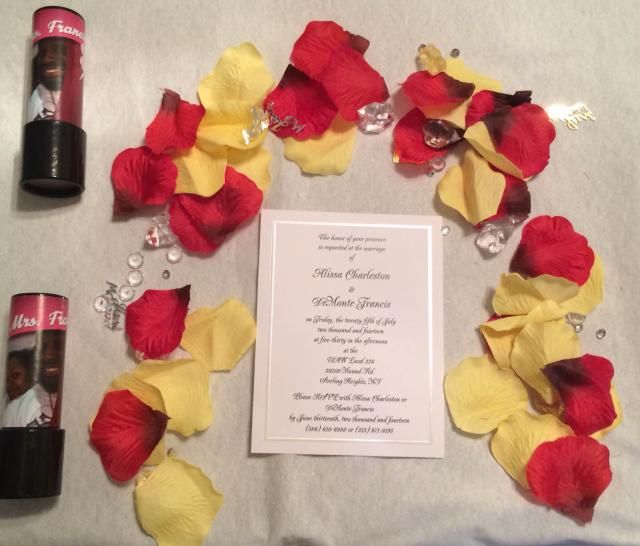 Pretty cool, wouldn't you say? THANKS SO MUCH KALEIDOSCOPES!!!
Last we want to say THANKS also to TableCloth Factory & EFavorMart for the Water Fountain & Candles. WOW, was the Water Fountain beautiful. It lite up the whole table area and flowed so easily and of course everyone enjoyed the 7-up punch!!
They also sent us a set 12 floating candles, everyone knows candles can bring out the beauty in any room !!
Well, there you have it, a list of Wonderful companies and their Awesome products that they shared with the Bride & Groom on their "Special Wedding Day"!! Each brand product represented, joy, happiness, uniqueness, creativity and most of all LOVE!!
This is the lovely couple that was gifted all those wonderful products listed above!!
Mr. & Mrs. Francis would like to say: "Thanks To Each One Of You for making our "Wedding Day So Special"!!
Each brand added that unique, joyful, fun, exciting glam to our Bridesmaids gift bags and Wedding settings. We Thank you from the bottom of our hearts and we look forward to "Paying It Forward" to another lucky couple in the future! Thanks again!
The Night Helper Blog would also like to send a BIG THANK YOU to all the brands listed above and to Mom Blog Society for assisting in making this couples day special also .If you have not had a chance to visit any of these Awesome Brands above, please feel free to do so and drop by Mom Blog Society , they were named name #1 Blog in the USA!!! So please drop by and visit them too.
Disclosure: Howdy everyone, I wanted to inform you that I was not compensated for this post. However, I did receive a product and the opinions expressed in this post are 100% my own