The American Cleaning Institute (ACI) created the national Packets UP! campaign to educate households on the importance of keeping laundry detergent packets and cleaning supplies in a place away from children. It's important to remember to treat those liquid laundry packets the same way that you treat other common household chemicals and cleaners.
With the busy hustle and bustle of the holiday season upon us, now is a good time to make certain that you are doing everything you can to keep your household safe, especially as you travel to stay with family or as family and friends with small children visit during the holiday.
How to Keep Your Household and Children Safe
Accidents can happen fast, so your children should never be handling the liquid laundry packets just in case one was to break or get misplaced.

Children have a tendency to put items in their mouths, so keeping liquid laundry packets out of their reach is a must.

Keeping them properly stored, up out of sight and out of reach is key. Keep laundry packets in their original container or pouch with their safety labels intact.

Be sure that your liquid laundry packets are securely closed in their original packaging.

Call the Poison Help line at 1-800-222-1222 if there is an accident.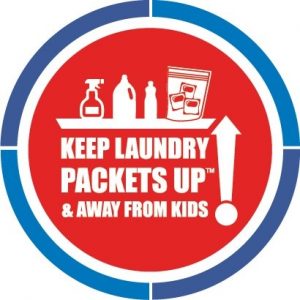 How to Educate your Children
Talk to your children about the importance of practicing safety and having an adult with them at all times in the laundry room.

Download an activity sheet from the

Packets Up website

for a fun way to help teach laundry room safety.

Engaging your older kids in the laundry room can help teach them about chores and responsibility. Let your kids sort the laundry or help put clean clothes away. You can even turn this sorting into a fun game and activity.
Remember: laundry packets contain premeasured doses of detergent to make it easy for consumers to use the right amount of detergent, but please keep in mind that each packet dose is highly concentrated, so always remember to store properly to prevent any accidents.
What can you do to help?
Making a difference is easy. Make laundry time a safe topic in your household and remind your loved ones to do the same, so kids are familiar with safe practices in the laundry room. It really is as easy as putting your packets up out of reach! Make certain that product containers are closed properly and secure, during and after each and every use.
Another easy way to get involved is by visiting packetsup.com for more information and enter your details to receive a free reminder cling that you can place in your laundry room area. It's a great visual reminder.
I recommend watching Through Their Eyes to understand how to keep toddlers safe by seeing the world from their perspective. You never know what they see at their level! Lastly, follow #PacketsUp on Facebook and Twitter to stay up to date on the latest in laundry tips and safety habits.