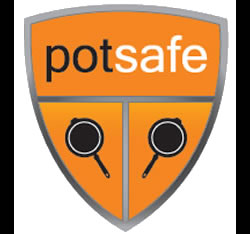 When it comes to the Holidays my family love to come together in the kitchen, even the kids are pulled in to show off their chef skills. But before we even begin we have to lay down some kitchen rules to help keep them safe while their spending time in the kitchen.
After all, it makes the kids feel as though they're doing something special when they get to cook with me during the holiday season. Think about it, who wouldn't love a pair of extra hands during cooking time!
Well, not only do the extra hands help but it is vital you have the proper kitchen tools or accessories to keep them safe while they cook. This is where the PotSafe would really help, it's an kitchen safety accessory created by two parents who totally understood just how important it is to keeping your kids safe while they're in the kitchen.
PotSafe is a metal frame with built in suction cups that affixes easily to your ceramic or glass cooktop, once secured to your stove you can then place your pot inside the secured frame.
This keeps your pot safe from being tipped over by your children passing by. I'm so glad to see such an innovative product like this on the market, I can remember a while back when my husband's nephew bumped a pot on the stove and it spilled. He got scolded a little on his hands, but his quick action of backing up prevented him from getting his chest scold. So you see this is a must have kitchen tool accessory for every home, especially if you have kids.
I really enjoy having the kids in the kitchen with me cooking but to be honest, there's not a minute that goes by that I don't worry about something like what happen to my husband's nephew could happen to my kids. I can truly say with the use of the PotSafe system, I feel more at ease now and a feeling of having a piece of mind when I"m cooking with kids around. It's secure , prevents accidental tipping of pots, reduces the chances for burns while cooking, and safe .
The patented design ensures all the above and that the pots can be lifted, lowered and rotate freely but restricts, now again, no need to worry about hot contents spilling or tipping!
The PotSafe will definitely make a great gift this holiday season, knowing that your friends and family will be safe while you cook will keep everyone happy!
The Potsafe ring measures 7.25" in diameter and comes with suction feet for easy set up and removal. It also comes with a 2.5 quart saucepan that fits the Potsafe ring perfectly and safely.
You can find out more on the PotSafe Website and don't forget to connect with them on Facebook | YouTube |.