Disclosure: The following products were provided as compensation for this post.
It's no secret I like my makeup! What's a girl to do with an overflowing basket of cosmetics that really have no home?! Thanks to ToiletTree's LED 7x Magnified Makeup Mirror and Tray, it's easy to store items and apply makeup all at once.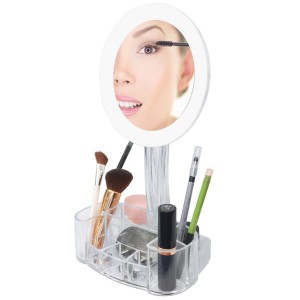 How great to have everything at an arm's reach in a stylish, yet practical, solution. It's large enough to hold all of your daily makeup items, but won't take up too much room on your bathroom counter, dresser or vanity.
This 7x Magnified mirror is a great addition to any makeup table. Get a close up view of your skin to allow yourself to look your best.

The LED ring around the mirror will illuminate your face so nothing is missed. The convenient organizing base is a great place to store cosmetics, jewelry, hair accessories and more.

ToiletTree Products manufactures products to the highest standard. If you ever have a question or an issue, just reach out to them. They are there to help and never put a time limit on that.
Trying to organize your cosmetics in order to make your bathroom more tidy? Maybe you have a child heading off to college this fall? This would be a great addition to their dorm room.
Mirror is fully adjustable to allow for any angle of viewing
Clear durable makeup organizing base
9 multi-sized compartments will hold your cosmetics, jewelry, hair accessories and more.
Product dimensions – Length 6.5 inches x Width 5 inches x Height 12 inches up to 16 inches (depending on mirror positioning)