Every parent knows the struggle of having kids involved in sports, band or other school activities. Trying to stay coordinated is challenging with mass texts and emails. The alerts and notifications are constant, it's difficult to tell who is saying what, and all that gets accomplished is confusion and chaos. BAND can help rein in some of that chaos.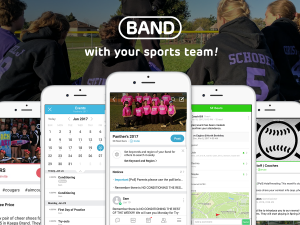 BAND is a free app that gives you the power to communicate and organize your clubs, easily and stress-free. BAND is particularly perfect for sports teams, cheerleading squads, and school bands.
With all their great features, BAND allows you to easily organize your club and effectively communicate with every parent, coach, and team member.
The Smart Team Calendar lets you organize practice and competition schedules, send reminder notifications and RSVPs and
Swift Team Decisions gives you the power to conduct polls, send notices and to-do lists
The Team Photo Archive allows for unlimited photo storage to keep all those treasured memories organized.
Communicate effectively with group chats and voice calls.
Stay in the know with the community message board.
Easily split bills with group members using the Bill Split calculator.
In the past, Facebook has been a popular way to communicate with groups. But with the growing number of kids and teens not using Facebook, it's gotten a lot more difficult to keep everybody in the loop. One cheerleading coach ran into that problem, decided to try BAND, and had this to say:
"BAND is so great for our group to communicate. I used to have to text, and then email, make phone calls and do this and that. I love that I can just use BAND and I'm done. Anything important I have to convey to the families…from practices, cancellations, competition schedule, what they're supposed to wear, if we have an extra practice that's needed, we share practice videos so they know what we need to work on…it's really been a lifesaver."
— Lisa Jarratt, AIM Cougars Coach
Check out more testimonials on their blog. And see for yourself in the video below.
BAND isn't just for sports and band clubs. BAND can be used to coordinate ANY kind of club or group:
Book Clubs
Work Teams
Study Groups
Family Reunions
Gamers
Parenting Groups
Support Groups
Wedding Parties
Neighborhood Associations
Special Interests (photography, gardening, geocaching, genealogy, etc)
The possibilities are endless! So ditch the headache-inducing mass messaging and download BAND! In the meantime, want to win t-shirts for your sports team? If you create a BAND for your sports team during the month of February, you will be entered to win sponsored, customized t-shirts. Hurry! The contest ends on February 28th, and winners will be announced on March 6th, 2017. To Enter: Download the BAND app, create a sports team group, and invite 4+ members to win a BAND sponsorship.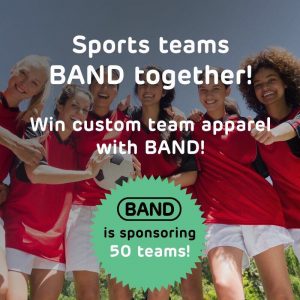 BAND is available for phones and tablets, available for iOS & Android, as well as for desktops.