INCLUDING HOUR-LONG CROSSOVER SPECIAL "HAUNTED THUNDERMANS,"
BEGINNING OCT. 11 AT 8 P.M. (ET/PT)
Henry Danger, Nicky, Ricky, Dicky & Dawn, PAW Patrol, Sanjay and Craig, Breadwinners and Instant Mom to Feature Holiday-Themed Episodes
NEW YORK – Oct. 2, 2014 – This October, ghosts and mortals unite as Nickelodeon treats viewers to all-new Halloween-themed episodes from its live-action, animation and preschool hit series. Beginning Saturday, Oct. 11, at 8 p.m. (ET/PT), the Thundermans and the Hathaways combat the ghouls in a one-hour crossover special, "Haunted Thundermans." The hair-raising lineup of premieres continue throughout the month from Henry Danger, Nicky, Ricky Dicky & Dawn, Sanjay and Craig, Breadwinners, Rabbids Invasion, PAW Patrol, Wallykazam!, Instant Mom, Lalaloopsy and Zack and Quack.
Below is the rundown of Nickelodeon's Halloween-themed premieres (all times ET/PT):
SATURDAY, OCTOBER 11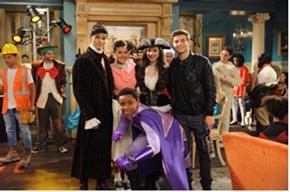 8:00 p.m. – The Haunted Hathaways and The Thundermans (one-hour crossover special) "Haunted Thundermans Pt I and II"
After a super-villain escapes Ghost World on Halloween, the Thundermans head to New Orleans to join forces with the Hathaways and the Prestons to defeat the ghoul. However, saving the day gets complicated when super-powered trick-or-treating, sibling jealousy and teen romance get in the way.
Sneak Peek
SATURDAY, OCTOBER 18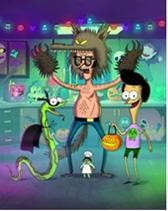 10:30 a.m. – Sanjay and Craig "Tufflips' Tales of Terror" (30 min. special)
Tufflips hosts a spooky, strange and shoddy half‐hour Halloween special.
11:00 a.m. – Breadwinners "Night of the Living Bread" (30 min. special)
SwaySway and Buhdeuce invent a loaf of bread so irresistible it turns their customers into bread‐craving zombies.
11:30 a.m. – Rabbid Invasion "Vampire Rabbid/Rabbid Halloween/Zombie Rabbid"
"Vampire Rabbid" – The Rabbids unintentionally star in their own horror story when they experiment with a mysterious instant growth tonic. / "Rabbid Halloween" – The Rabbids try their hand at trick or treating. / "Zombie Rabbid" – The Rabbids think their friend has turned into a zombie when he accidentally eats a rotten donut.
8:00 p.m. – Henry Danger "Jasper Danger"
When Jasper goes as Kid Danger for Halloween, he takes things too far and is mistaken for the real deal. It's then up to the real Kid Danger and Captain Man to come to his rescue.
8:30 p.m. – Nicky, Ricky, Dicky & Dawn "Scaredy Dance"
The quads excitement for the Halloween school dance is outdone only by their parents who are chaperoning. Dawn is nervous that a boy she likes will ask her to be his date; Ricky and Dicky compete over the same girl; and Nicky chooses the perfect costume. Meanwhile, Tom and Anne try to have the romantic dance they did not get at their own prom.
MONDAY, OCTOBER 20
12:00 p.m. – PAW Patrol "Pups Save a Ghost/Save a Snow"
"Pups Save a Ghost" – A mysterious ghost is causing havoc around the Lookout at night. The pups and Chase set up a stakeout to bust it, but discover that it's not a ghost after all – it's Marshall… sleepwalking! Now the pups have to save the slumbering pup as he sleepwalks through town. / "Save a Snow" – The pups are going to put on a Medieval play in town square, but Cap'n Turbot's castle stage prop ends up collapsing and trapping him. Ryder and the PAW Patrol have to save Turbot and Marshall, who then has to save the show when Chase gets sick and can't play the lead role.
THURSDAY, OCTOBER 23
8:00 p.m. – Instant Mom "Children of the Candy Corn"
Stephanie feels unneeded when all of the kids have their own plans and ditch her on Halloween. Meanwhile, Charlie tries to maintain his perfect rating as the best house in the neighborhood.
TUESDAY, OCTOBER 28
10:30 a.m. – Wallykazam! "Mustache Day"
Wally and friends discover the biggest treat in the world while out trick-or-treating. In order to get it, they have to pass three magical challenges set up by their wacky neighbor Wizard Jeff. This episode guest stars "Weird Al" Yankovic as Wizard Jeff.

Nick Jr. Programming:
SATURDAY, OCTOBER 4
1:00 p.m. – Lalaloopsy "Knick Knack Knock Knock"
When Specs goes missing while looking for a mysterious Ghost Dog, Bea follows her into a spooky mansion and meets Scraps Stitched 'n Sewn – who looks scary but is actually shy.
1:30 p.m. – Zack and Quack "Pop-Up Pumpkin Patch/Up Popped a Spider"
"Pop-Up Pumpkin Patch" – When a ghost swipes Zack and Quack's candy while they're trick-or-treating in the Pop-Up Pumpkin Patch, Zack's determined to get the treats back in time for their big Halloween party. / "Up Popped a Spider" – When a spider pops up in the garden and scares Belly-Up, Zack heads off to find the six-legged bug the perfect new home.
TeenNick Programming:
TeenNick treats viewers to the complete second season of House of Anubis every Monday at 4 p.m. (ET) in October.
Nicktoons Programming:
Nicktoons gets into the spooktacular spirit with "Get Your Halloween On!" featuring a marathon of the most costume-worthy characters including SpongeBob SquarePants, Power Rangers Super Megaforce, Avatar: The Last Airbender and Teenage Mutant Ninja Turtles, airing every Friday from 9 p.m. – 12 a.m. (ET) throughout October.