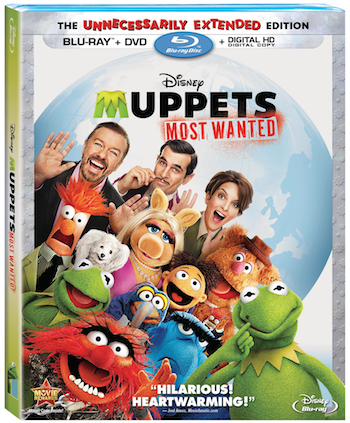 I recently sat down with my family to watch this very funny film.
My 17 year old, daughter, and my 3 year old, son, loved it. Sarah said she couldn't take her eyes off of the tv. Then I let my 43 year old sister borrow it, because she grew up loving the Muppets, and she said it was "one for the books." She really enjoyed every moment of it.
This Muppet Most Wanted stars one of my favorite actresses (Tina Fey), because she is so funny. It also stars Ricky Gervais & Ty Burrell, and don't forget the main cast (The Muppets).
There is so much Bonus Footage on this DVD & Bluray Combo Pack.
"Two Frogs! One Pig! Intrigue! Music! Mayhem! Muppets!" "There's plenty of fun for the entire family as Kermit the Frog, Miss Piggy, Animal and the entire Muppets gang head out on a world tour."
We will watch this movie over and over. Jacob found his new favorite film.
Muppets Most Wanted is 124 minutes and is rated PG.
Here's a film clip: