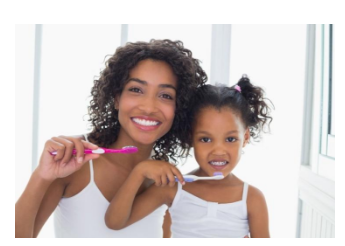 February is both Gum Disease Awareness Month and National Children's Dental Health Month. With these two important campaigns overlapping in February, this month presents the perfect opportunity to discuss the importance of prioritizing moms' oral health, as well as their children's.
Let's face it: Moms focus more on their kids' health and well-being than their own. However, the implications of a mom not taking care of her oral health with the Dentist In Boynton Beach are significant. Gum disease often serves as a harbinger of other health problems for adults, which can include cancer, heart disease, and diabetes among others.
With conditions like these looming, moms cannot afford to ignore the state of their own oral health, while also ensuring that of their kids.
What is Gum Disease Awareness Month?
Gum Disease Awareness Month is part of a global effort to raise awareness about the severity, signs and treatment and prevention tips related to gum disease. Started in 2012 by the Institute for Advanced Laser Dentistry (IALD), the goal is to educate people about the prevalence of gum disease, as well as the consequences of leaving it untreated. Moreover, the effort aims to encourage people to improve their oral health through prevention, diagnosis, and treatment. The organization also launched a website dedicated to this endeavor, FightGumDisease.com.
Gum disease also referred to as periodontal disease, is an infection that attacks the tissues and bones that surround your teeth. Some experts estimate that between 80 and 85% of adults in the US have at least some degree of gum disease, although only 60% of them know it, and only 3% of them will allow treatment of it. Chances are if moms are putting off their oral health examinations, then they are likely to find themselves among those that aren't aware of their condition.
Moms are susceptible to gum disease, particularly when there are changes in hormones. The reproductive hormones progesterone and estrogen can increase the blood flow to the gums, which sometimes results in sensitivity or swollen gums. It starts in puberty, but as women mature, they may develop what is called menstruation gingivitis, a gum inflammation that happens prior to a woman's period and stops once the period begins. Moms can also have pregnancy complications related to gum disease, including pre-term delivery and premature and low-birth-weight babies. These complications occur when the bacteria associated with gum disease leaves the oral cavity and makes its way to the uterus, where it can target the fetus.
However, the complications associated with gum disease and women's health extends much further than that. Periodontal disease has been linked to serious health conditions that include breast cancer, heart disease, osteoporosis, and diabetes.
To read more about women and Gum Disease, please click here.
What is National Children's Dental Health Month?
The month of February is also National Children's Dental Health Month (NCDHM). Nationwide, dental professionals join to promote the importance of maintaining excellent oral health. The target for the campaign includes children, their parents or guardians,, teachers and more. Presented in English and Spanish, the 2017 campaign is "Choose Tap Water for a Sparkling Smile." It also encourages kids to eat a nutritious diet, maintain good oral hygiene and schedule regular dental check-ups to improve oral health.
Moms Should Think Like an Airline Passenger
Safety instructions given on an airplane to parents about the oxygen mask are good advice for life:
"…Although the bag does not inflate, oxygen is flowing to the mask. If you are traveling with a child or someone who requires assistance, secure your mask first, and then assist the other person…."
"Securing your mask first" is no less pertinent when it comes to your oral health. With so many adults in the U.S. affected by gum disease, many moms likely already have the condition and just don't know it yet. Gum disease is also associated with many serious health conditions, which means moms must know what's going on with their oral health. Just like on an airplane where oxygen masks are necessary, it's critical for moms to have their health in order so they can provide their kids the proper dental care they need.
Gum Disease Awareness month, along with National Children's Dental Health Month, will continue through the end of February. Both organizations provide numerous activities and materials for those that want to join in spreading the word.
To download the ADA's materials for NCDHM, please click here.
To download the IALD's materials for Gum Disease Awareness Month, please click here.
Sources:
"February is National Children's Dental Health Month." www.ada.org. Web. 2 February 2017. <http://www.ada.org/en/public-programs/national-childrens-dental-health-month>.
"Gum Disease Awareness Month." Fightgumdisease.com. Web. 2 February 2017. <http://fightgumdisease.com/awareness/>.