Minky Couture Blanket


Minky Couture was established in 2009. I wish I would have discovered them earlier because Minky Couture are super super soft and keep you very very warm. I recently had the opportunity to work with Minky Couture and review one of the many blankets that they have to offer. We were sent the blanket in the Chandler Print to review free of charge.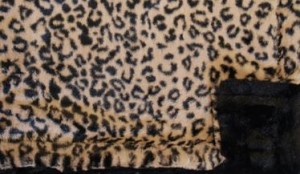 I was very excited when I found out that I would be reviewing a Minky Couture Blanket. Minky Couture blankets are a must have product for anyone. I am serious everyone loves blankets and Minky Couture has them in all sizes, so no matter if you are 0 months or 99+ years old you will love their blankets. The first thing I noticed about the blanket is that it is perfect for my bed or as a throw on the couch for when the house is chilly.
I love this blanket! The print is one of my favorite animal prints. When I say that this is the softest blanket I have ever touched it is! I can not even describe how soft it is. Minky Couture blankets are available for purchase in a variety of sizes for baby blankets and adult blankets too! Be sure to get one for everyone on your list this holiday season! You can even have any Minky embroidered with up to 8 characters for an additional fee!
If you would like more information or if you would like to purchase a Minky Couture Blanket, please visit the Minky Couture Website. Be sure to stay up to date on all of the latest news and products from Minky Couture by following their social media page on Facebook. Please also be sure to connect with Deb on Twitter. While you are there, be sure to follow Mom Blog Society on Facebook.
Minky Conture has been generous enough to offer one lucky Mom Blog Society reader a chance to win a Tween Minky Conture blaket! Simply click the image below to enter via the Rafflecopter. GOOD LUCK!