I've tried a lot of survey websites over the years, and honestly, I had given up on them. Almost every survey site is the same. They promise tons of points and tons of rewards, but the reality is much different. I didn't qualified for most of the surveys and the ones I did qualify for took far too long to be worth a few measly points. Points that would take years to accumulate enough of to redeem anything meaningful. Add in the never-ending stream of ads and spam surveys and it just wasn't worth it. So, when I heard about iRazoo, I expected a lot more of the same thing. I soon realized how wrong I was.
iRazoo works much like other survey sites. Brands pay them for consumer input, so iRazoo, in turn, pays you, the consumer, for your input. It's that simple! The difference is clear! iRazoo is well organized, full of variety and the rewards add up quickly! When you do online activities at iRazoo, you earn points. The surveys and earning opportunities update daily so you can come back every day for fun, new content.
There are so many fun ways to earn points!
Take dozens fun surveys
Play games
Complete offers
Watch videos
Search & earn
Download apps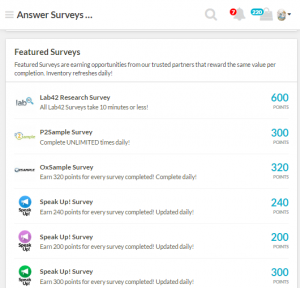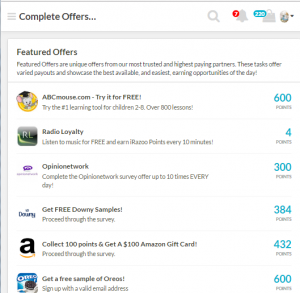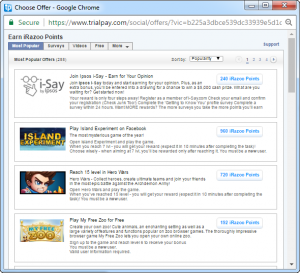 Earn Extra Points!
Refer friends – Your friend will receive an extra 500 points just for accepting your invitaiton and you'll receive up to 500 points per friend when they reach 1000 points!
Enter Promo Codes – Promo codes are given out on Facebook and in the weekly iRazoo newsletter. These

are available every day for entry so long as your account has a single paying activity on your account. These activities are things like watching a video, playing a game, and completing an offer or a survey that credits your account. Once you have one of these activities, when you type this code into the iRazoo site, you will get

free

points added to your account

Reach Daily Goals – The daily goal system has a goal for everybody, no matter how often you use the site.You can earn up to 35 bonus points for completing all three levels of the daily goal each day. With iRazoo, you can get paid how you want! Choose gift cards from dozens of big brand companies including Amazon, Walmart, Target, Barnes & Noble, Starbucks, Kohl's, Best Buy, Applebees and many more. You also have the option to get a cash payout via PayPal. The best part is, your points are worth the same amount, whether you opt for cash or gift cards.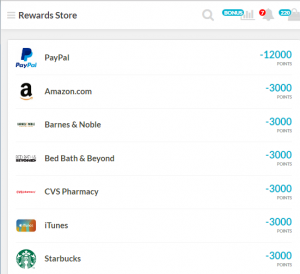 iRazoo is a great way to earn extra cash in your spare time. You can earn as much or as little as you have time for. I'm always taking surveys and watching videos while watching TV. I plan to save up gift cards throughout the year to give as gifts for Christmas and birthdays. So, sign up today and start earning your rewards!
Connect with iRazoo: Sign up | Facebook | Twitter