Kwik Stix™ are solid tempera paints that make creativity fun without the added mess. They are wonderful to use for Valentines Day activities or anytime you want to allow your kids to let their imagination run wild. Did I mention they are not messy? Anytime I had my kids get their creativity going it always involved a lot of cleaning up afterward. Let me share with you all about Kwik Stix.
What is Kwik Stix?
Kwik Stix is the mess-free alternative to traditional paints. They are tempera paint sticks which are gluten, egg, peanut, soy, and dairy free and need no prep nor cleanup. This is awesome, especially for kids that have allergies to the aforementioned items. Kwik Stix goes on wet and dries in 90 seconds or less with a paint like finish, working on paper, canvas, wood and more! I am so very impressed with just how easy these are to use. Half the issue when it was craft time with our daycare kids was all of the mess that was involved. I wish we would have had Kwik Stix back then. We would have had fewer paints being mixed which always seemed to ruin the sets when we wanted to use them again. With Kwik Stix this is not a problem.
The colors are vibrant as you will see in the craft below. They are so easy to use. I will not take credit for this fun Valentines Day wooden photo frame, but you can get your own supplies and make one yourself. A fun wooden frame from Michaels and Kwik Stix made this project fun and easy.
Once you are done painting your frame you can add your favorite picture and give it to your Valentine. Pick up both Kwik Stix and a wooden frame at Michael's in store or online at www.michaels.com. Also visit The Pencil Grip here to get more ideas.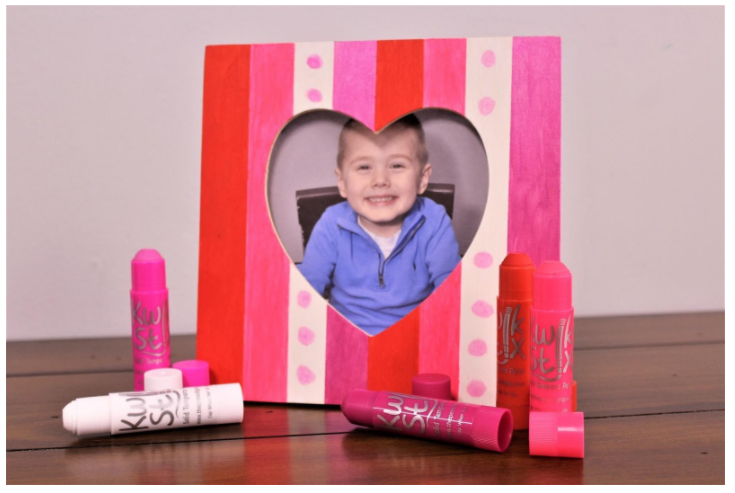 Kwik Stix has different sets to choose from. As shown below. All sets guarantee endless hours of fun for your children. No paint brushes or water is needed which eliminates the need for extra supplies.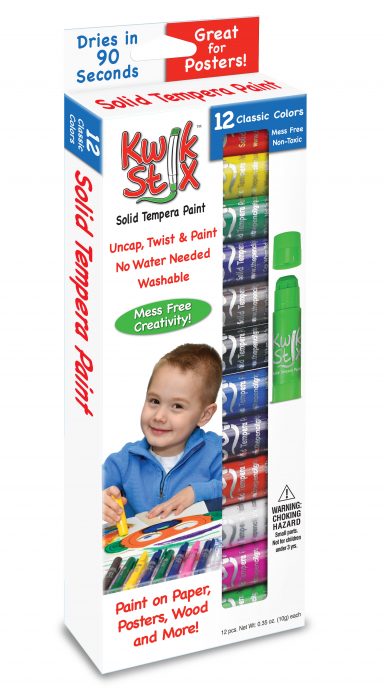 12 pack of classic colors on Michaels
Details:

12 classic paint sticks
Tempera paint
Dries in 90 seconds
No water needed
Non-toxic
For use on poster paper, cardboard, wood, and canvas

6 pack of metallic colors on Michaels
Details:

6 metallic paint sticks
Tempera paint
Dries in 90 seconds
No water needed
For use on poster paper, cardboard, wood, and canvas

6 pack of neon colors on Michaels

Details:

6 neon colors
10 g
Dries in 90 seconds
No water needed
For ages 3 and up
An idea I to use Kwik Stix with is to purchase the pre-made birdhouses, which you can normally get in the wood section of Michaels, and any or all of the Kwik Stix color choices. Then pick up a couple small book or books on different types of birds, and of course some bird seed.
Have your child(ren) paint their birdhouses in a design or colors they choose. Then put them out in the back or front yard with some bird seed. Once they have been out for a couple days you will start to see birds coming, and you can find that bird in the book you purchased and help your child learn more about the types of birds that visit their feeders. Don't know where to buy craft accessories at the discounted price? Visit CouponsMonk and use "Michaels coupons at check out".
Visit The Pencil Grip's Social Media below:
Facebook | Twitter | Instagram | Website
What projects would you use Kwik Stix for? Tell us in the comments below.