This holiday season; give your child a learning experience that they will enjoy year-round, learning the FUNctions of time and clocks! Your child will love winding, turning, playing with Telly everywhere.
With Telly the Teaching Time Clock, your kiddo will be spending each hour with this little friend as Telly functions as a night light until your little one is ready for another day of play!
Research has shown that some of the best practice in early childhood education is one that will allow for more play and discovery. That's where Telly the Teaching Time Clock (Named Dr. Toy's 2015 Best Classic) comes in helping your child learn time like never before!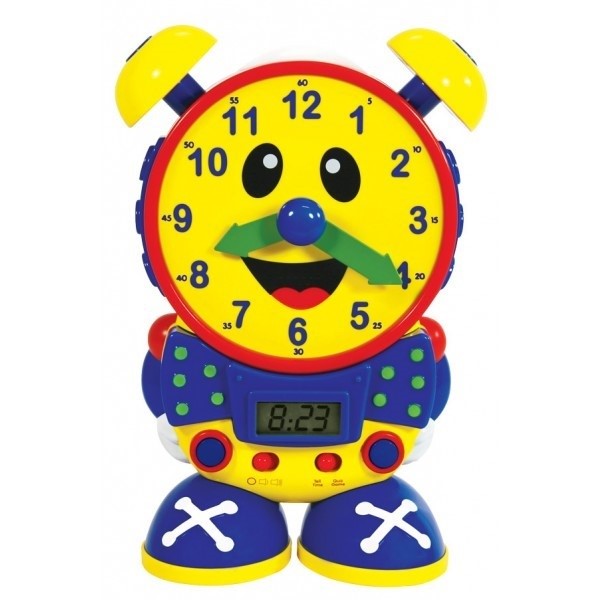 Product Description-
Let Telly the Teaching Time Clock help your child learn to tell both analog and digital time using two quiz modes. In the learning mode, Telly teaches time in five-minute increments when his hands are moved, updating his LCD screen. In the quiz mode, Telly asks your child to move the hands on his face to match the time displayed on his screen. Telly is also a real working clock. Learning to tell time has never been so much fun with this award-winning clock! This product is an excellent way to introduce your child to the foundation of Science, Technology, Engineering and Math standards. Requires three AA batteries (included). Ages 3+ years.
Math is all around us!
With math come numbers and equations of all sorts through symbol of all shapes and sizes.
That's where the Award-winning Match It® Mathematics set, comes into play! Your little one will love learning about math through this interactive series of puzzles, full of shapes and fun colors!
Give your little one the joy of learning this Holiday season as they will love learning to count and understand math in this vibrant set!
With our Award-winning Match It® Mathematics set, (Recipient of Dr. Toy's 2013 Best Classic) children will embrace math through an engaging experience.
Product Description:
Learning numbers and basic math has never been this much fun. This colorful set of math puzzle cards provides children an excellent introduction to number recognition, counting and basic addition and subtraction. The 30 puzzle cards feature 10 cards of counting, 10 cards of addition and 10 cards of subtraction. The puzzles are self-correcting – only cards with the correct answer will fit together. A fun way to learn basic mathematics. Recommended for ages 3+ years. Bilingual packaging.
The Learning Journey International – TLJI.com Has been generous enough to offer five lucky Mom Blog Society readers and chance to win both Match It and Telly. Simply Click on the Image below to enter. Good Luck.