On one hand we are thinking of moving into space, making Mars our home, but on the other we have yet to explore the wonders of this Earth in their entirety. Earth is dotted with so many spectacular landscapes, enchanted forests, terrific mountains, and bottomless lakes that sometimes the dream of living on Mars seems redundant; why should we ever think of moving to another planet when we have our own heaven on Earth?
When you arrive at these miraculous places on our list, you would never want to leave; they will trap you in their magic. However, there is always a nagging voice in your head that keeps telling you have responsibilities back home, a home that has been left empty and unsecured; mute that nagging voice by installing Cox HomeLife at your house and embark on your long and memorable journey without any worries.
Keep on reading to find out more about places that you should visit before you die.
Fiji Islands
Fiji has 333 islands located in the South Pacific Ocean infused with beguiling colors of blue-green and pristine white sand. Some of the Fiji islands are incredibly tiny, sizing just a few dozen yards that are perfect for getting away from the world and enjoying your time in isolation.
These islands have a myriad of top-notch private resorts built on a smaller scale to offer seclusion their guests crave and is filled with tropical spas that employ local natural products in their treatments. You might find your accommodations known as bure, a bungalow made with wood encompassing most of its structure and a quaint thatched roof. A breathtaking view is guaranteed, whether it is of the gorgeous blue-green ocean or the emerald green thick foliage.
As for food, you will be served with a variety of delicious seafood as it's the staple for Fijians. If you are an adrenaline junkie, you will find many endeavors on Fiji's main island, such as Viti Levu, where you can raft or kayak in the Navua River. Enjoy cave safaris or feed the sharks, go for mountain biking, hiking, sky-diving, surfing, or parasailing.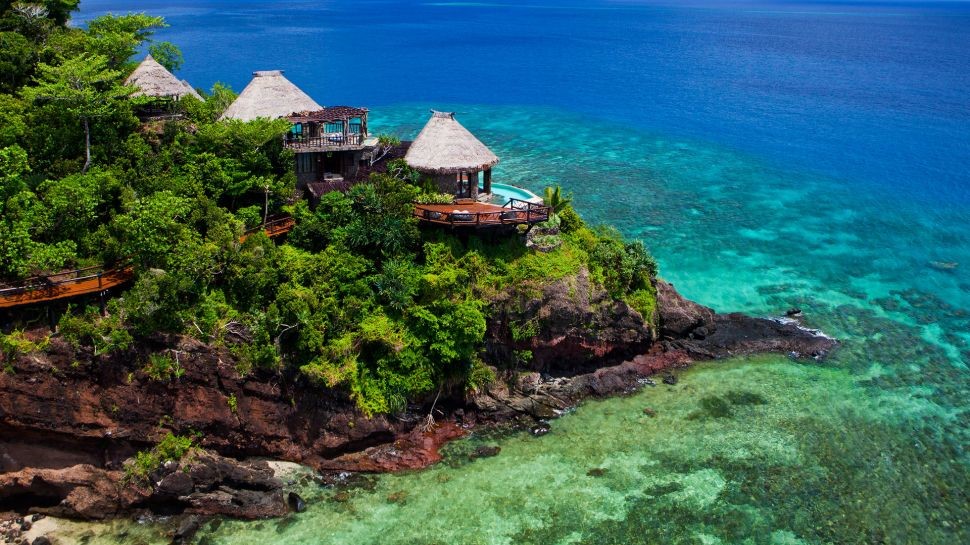 Laucala Island, Fiji – Photo Credit: Kiwi Collection
South Iceland Waterfalls
If you're fond of waterfalls, then Ireland's Seljalandsfoss and Skógafoss are a must visit. Seljalandsfoss is one of the most popular landmarks among Iceland's whopping 10,000 plus waterfalls, each with its own unique beauty. The most exciting part about Seljalandsfoss is that you can witness its sheer ice-cold beauty by walking behind the waterfall. On a particularly sunny day, you can also witness a rainbow on the horizon; it will snare you in its spell completely.
Another beloved place in Iceland is Skógafoss, which is nearby Seljalandsfoss. One of the biggest waterfalls in the world with a drop of 62 meters and width measuring 25 meters, Skógafoss is among two dozen other waterfalls dwelling in the Skógá River. The exciting part is that you can climb at the top of this waterfall, and witness it in all its glory. This waterfall starred in the popular Game of Throne series among many other Iceland's iconic landmarks. We see Skógafoss when Jon Snow rides atop the dragon for the first time.
With 10,000 waterfalls, it's hard to decide which one to visit, but you can definitely visit these top 10 waterfalls in Iceland to fulfill your gluttonous appetite for nature.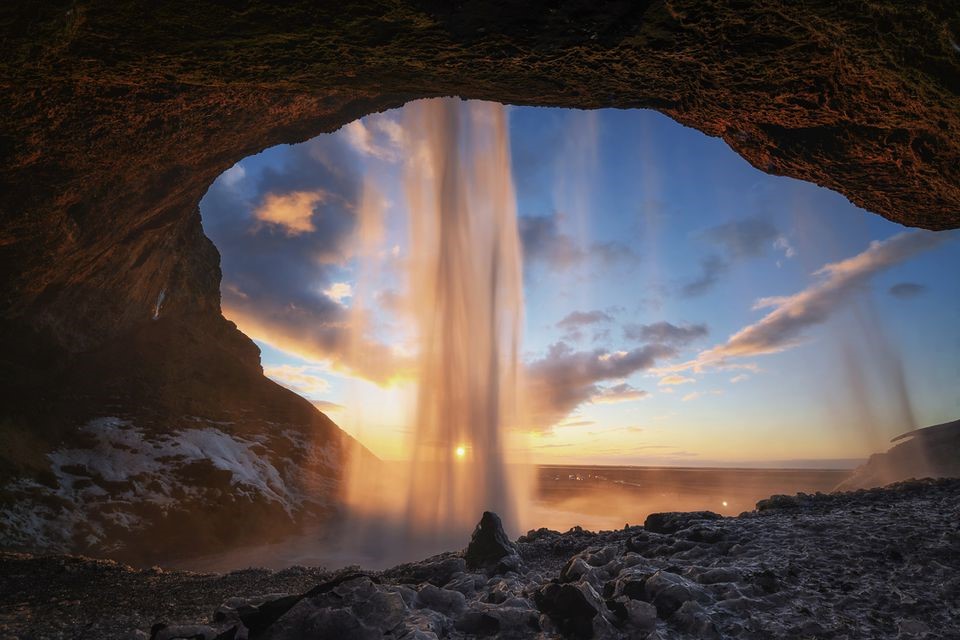 Seljalandsfoss Waterfall – Photo Credit: Trip Savvy
Plitvice Lakes National Park, Croatia
Plitvice Lakes National Park encompasses 73,000 acres of spectacular feat of nature, located between the cities of Zagreb and Zadar, close to Bosnia and Herzegovina Borders. It became UNESCO's world heritage site in 1979. The Park has 16 stunning crystal clear lakes, cascading and interconnecting with each other and 90 gorgeous waterfalls imbued with rich and vibrant colors that you have never seen before. You can ride around in boats and shuttles, lose yourself in the purest lakes and witness its aquatic inhabitants' every minuscule detail.
For hiking lovers, the park has 4 hiking trails split into 7 routes, through which you can get acquainted with this lush place's awesome nature. You will encounter over a dozens of caves, crevices, and obscure paths that will make you feel like you've stumbled into an enchanted forest.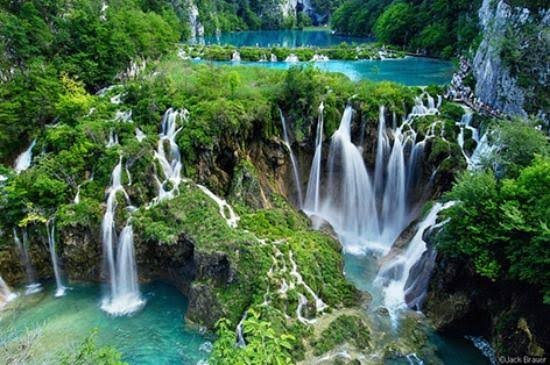 Plitvice Lakes National Park – Photo Credit: Trip advisor
Lake Baikal, Russia
Want to witness one of the most spectacular wonders of this Earth? Lake Baikal is the place. The world's deepest and largest freshwater lake has the length of 397 miles, width of 49 miles and an awe-inducing depth of 5,354 feet, which makes it worth of being a part of UNESCO's world heritage site and a highlight of Southern Siberia area in Russia.
What's more? This magnificent lake possesses 25 to 30 million years old geographical attributes and is home to some 1,800 unique fauna and flora. Baikal possesses 20% of the world's freshwater due to its depth and is the only habitat of freshwater seals in the world.
Come summer, it has many visitors, who get jaw-dropping views of the lake and sky-scraping mountain ranges, full of vibrant colors of blue and green. A few visitors who venture there in winters are rewarded with the sight of glorious wonderland with glacial milk-white surface; It transforms into the world's largest ice rink, where you can cycle or dog sled.
You're going to lose count of the number reasons you need to travel this fantasyland, its stunning beauty will make you feel like you have arrived in heaven.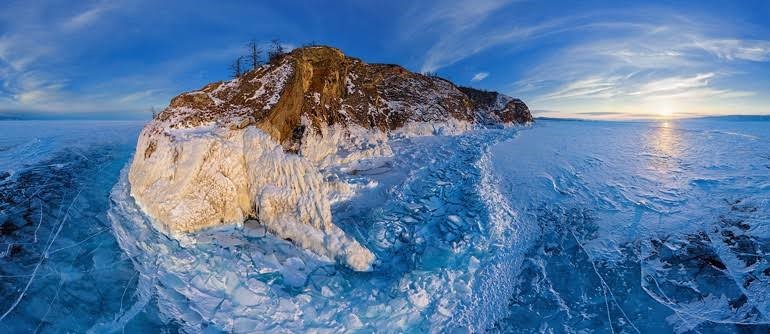 Lake Baikal, Russia – Photo Credit: AirPano
Namib Desert, Namibia
When we imagine what heaven looks like something akin to green forests and winter wonderland comes to mind, but never a desert. The Namib Desert, however, is going to change your mind. This Desert is one of the most magnificent landscapes of Africa, probably the world. Situated in Namibia, it's a photographer's dream, especially when its dazzling sand dunes change colors from shades of vibrant oranges to enigmatic rusty reds as the stunning desert sun looms high up in the bewitching blue sky, accompanied with scorched dead acacia trees. Namibia is a tad wild, untouched by development from tourism perspectives, but you can have a luxurious experience in its isolated desert lodges or go camping to have a truly desert experience. You can rent your own car and embark on an adventurous road trip, but be sure to take safety measures so that you don't end up stranded in the vast desert.
While staying in Namibia, you will witness incredible 700 unique avian species; every day there is a new wonder to witness.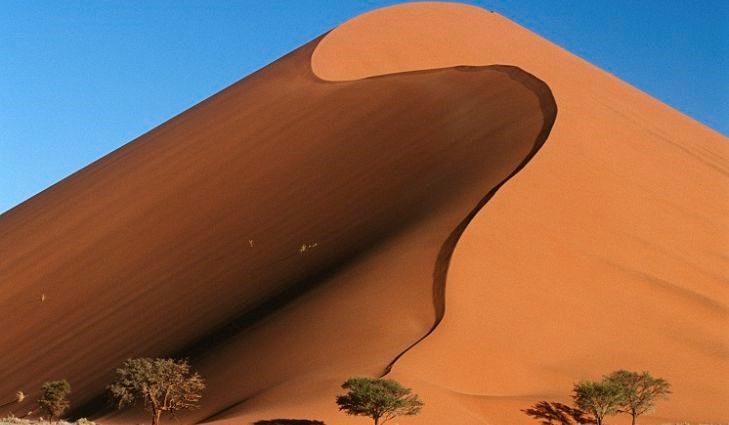 Namib Desert – Photo Credit: World Atlas