There is nothing like a good salad when you are hungry and want something good for you. It can be filling with the right combination of ingredients. No one says we have to go to a restaurant salad bar to have a great salad night.

With Wish-Bone you can put together a delicious salad with a high-quality salad dressing without breaking the bank. A salad also makes a great leftover as long as it is in an airtight ziplock baggy or a nicely sealed plastic bowl.
Although there are many different additions you can have on your salad, I am going to just name a few of my favorites and why they are good for you.
Arugula is a nice source of Folate, they have a good source of Calcium, and an excellent source of Vitamin A, and an excellent source of Vitamin C. Arugula has dark green leaves which almost have a hint of pepper taste and is very tender. It is always nice when it is mixed with mild lettuces such as Boston or Bibb. When purchasing you want to look for the leaves to be slender and dark in color.
Try arugula in these delicious salads Fall Harvest Salad, White Beans with Sun-Dried Tomatoes.

Another favorite of mine is Avocados! Avocados are a particular little fruit (yes a fruit). I wasn't sure so I looked it up to make sure. If you really want to get right down to it they are a berry. When picking your avocados, if the fruit gives a little when you push it with your finger, it's ripe. If it caves in or doesn't budge it's either overly ripe or not yet ready to eat. So anyways moving on. I love avocados on my salad, especially with Wish-Bone's Ranch dressing.
Avocados are low in saturated fat, low in cholesterol, contains nearly 20 Vitamins, Minerals & Phytonutrients. Another good reason I enjoy them. They are creamy and cool and have a soft texture. They are definitely good to lay last on your salad so they do not get lost in the bottom and make other additions have a different consistency.
Try them in: Shrimp & Avocado Spinach Salad, Spicy Southwest Chicken Salad, Creamy Fiesta Pasta Salad

The last thing I love to put on my salad, but not limited to are berries. I did not know this until this past summer. I have had them before when I was on a trip to LA, but until I did it myself did I realize it. Berries are high in Vitamin C, and low in sodium. You can use blueberries, strawberries, raspberries, blackberries and of course cranberries. I like cranberries the most when they are dried.
Strawberries taste as sweet as they smell but perish easily, so purchase them only a few days before use. Raspberries are tiny but very big in flavor. All berries go great in salads with cheeses, other fruits, and nuts. You will want to choose those that are firm, plump, and deep in color. I love them most paired with Wish-Bone's Chunky Blue Cheese.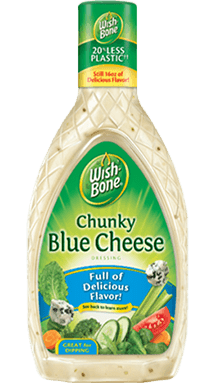 Try them in: Berry, Beet & Orange Salad on Baby Greens, Crunchy Fruit Salad, Double Berry Salad with Caramelized Almonds
To see more ideas you can visit Wish-Bones Best Salad page.
Remember you can always find Wish Bone on Facebook | Pinterest |Shop Website| to keep up with the latest.