The beginning of the school year gives stay-at-home-moms a much-needed break. After a few days, though, the house can start to feel a little empty. When that happens, moms can take advantage of these three opportunities to make extra money while the kids are at school.
Drive With Uber
Everyone who drives with Uber is an independent contractor who gets to set her own schedule. There are plenty of opportunities to earn money driving during school hours anqd at night after the kids have gone to bed. When your kid has to stay home sick, you can always adjust your schedule without even worrying about backlash from a boss.
You will need to meet some requirements before you can partner with Uber. Chances are that you have already fulfilled most of them. Some of the most important requirements include:
1.) Having a clean driving record
2.) Passing a background check
3.) Getting insurance for your vehicle
4.) Having an in-state driver's license for at least a year
You also need to have a fairly new four-door vehicle that can seat at least four passengers. As long as you have a vehicle made in 2000 or later, you can drive with Uber. Some cities, however, require newer vehicles.
Walk Dogs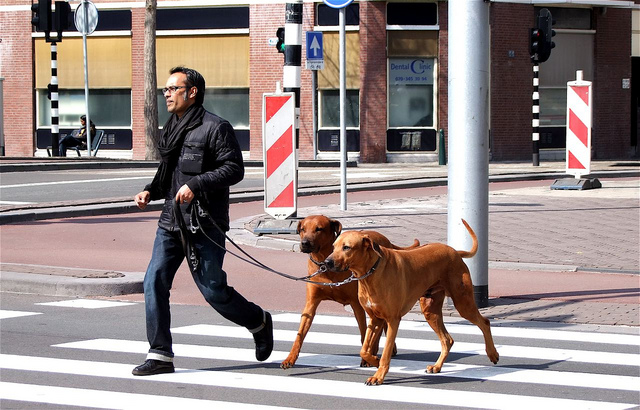 Image via Flickr by Roel Wijnants
Do you like dogs? Do you like spending time outdoors? Congratulations, you can become a dog walker!
Many dog walkers find clients by hanging advertisements at their local veterinary offices. You can also advertise in local papers, online, or use a website like Care.com.
Walking dogs offers numerous benefits other than making extra money (although that's certainly an important motivation for most people). Getting out for daily walks has been shown to:
Reduce stress
Burn calories to maintain a healthy weight
Lower the risk of getting diseases like cancer, diabetes, and heart disease
You'll also get to make plenty of furry friends who will brighten your day. If you love animals, this is a great way to make extra money during your downtime.
Freelance Graphic Designer
If you prefer working from home, you might want to look for opportunities designing websites. A lot of moms put their careers on the back burner until their kids get older. Freelancing is a good way to keep your skills sharp while earning money.
You may not even need previous experience working in design. Educational programs like those from Treehouse will teach you the basics of website design and running a freelance operation. Many public libraries will even give you free access to classes in graphic design and other subjects. You can take some of them online to develop new skills at your own pace.
Once you know how to build websites and create interesting graphic designs, you can start applying for freelance positions online. It's a relatively easy process and there are plenty of opportunities. It may take some time to build your work portfolio, but the effort pays off.
What opportunities would you like to pursue now that school is back in session?