I don't know about you, but my favorite part of the day is when the chaos of life has slowed and I finally get to crawl into my super soft, comfortable bed for the night. But I'll let you in on a little secret – I used to sleep without sheets! Yes, that's right – NO sheets! You name it, I tried it, but nothing made it past 6 months due to pilling, shrinking, or becoming rough over time. That all changed when I received PeachSkinSheets as a gift from a family member. I will openly admit that they did sit in a closet for months, as I was very skeptical about trying them due to past failures with other sheets. I'm happy to say that I finally put them on my bed and now I can't sleep without them! They haven't pilled, shrunk, or gotten rough. In fact, they've only gotten softer with time! I absolutely can't sleep without them, and I'll let you in on another little secret – I even bring them with me to use on vacations and business trips!
My favorite part of the day just would not be nearly as soft and comfortable without PeachSkinSheets.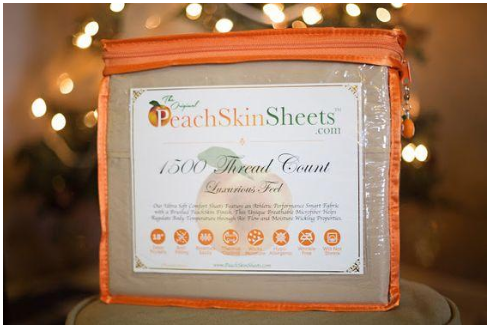 If you are looking to treat yourself or a loved one this Valentine's Day, I am here to tell you that PeachSkinSheets are the perfect gift, even for those that are hard to buy for. They are also calorie free, last longer than flowers, and add an extra touch of romance on Valentine's Day!

"The Original PeachSkinSheets are GREAT for hot sleepers! Breathable, ultra-soft, anti-pill and anti-snag bed sheets featuring thermal control and moisture management properties…warm sleepers stay cool, and cool sleepers stay cozy. The durable athletic grade performance SMART fabric wicks away moisture to keep you drier and more comfortable. Best of all, they have a luxurious 1500 Thread Count softness with a brushed PeachSkin finish on both sides. Available in Split King, Cali King, King, Queen, Full, Twin and XL Dorm Twin and XL Dorm Full."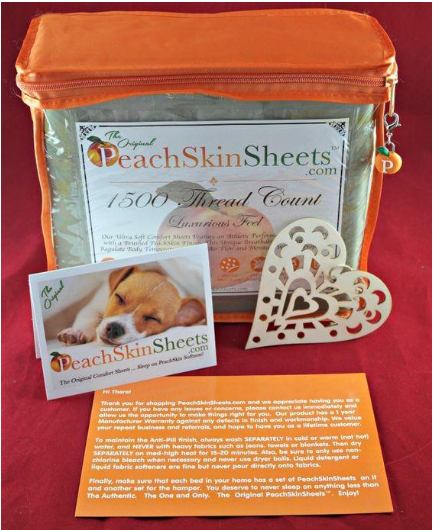 PeachSkinSheets also come out of the dryer in 15-20 minutes wrinkle free! Let's face it – who has time to iron sheets these days, or even wants to?! Not only that, but PeachSkinSheets are very affordable.
Insider Tip #1: There is a "Colors of the Month" sale that happens every month, where select colors are on sale for only $55 for any regular size set (even California King!). Here is the link to the current Colors of the Month: http://www.peachskinsheets.com/collections/color-of-the-month. *Split King specialty sets are just $99.95 for the entire 5 piece set and duvets sets are just $79.95! Free shipping applies automatically to orders $110+, or costs just $9.95 Flat Rate to ship anywhere within the Contiguous US!

Would you like to feel the fabric or test the colors against your décor before buying? PeachSkinSheets has you covered with a FREE swatch program! Here is the direct link to order an entire set of fabulous swatches in any colors you desire: http://www.peachskinsheets.com/pages/about-our-colors.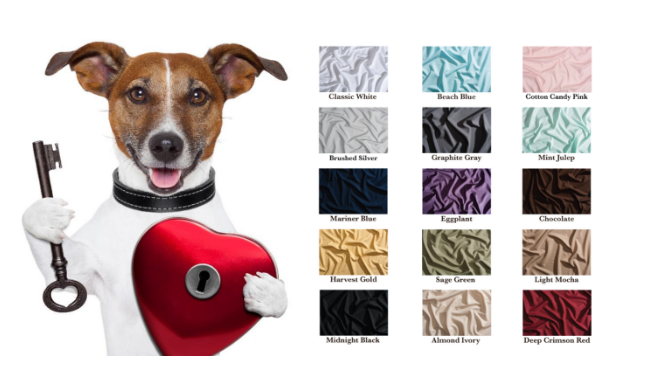 If you're anything like me, you may also want to know about all of the great benefits of PeachSkinSheets: http://www.peachskinsheets.com/pages/about-our-fabric or see what others are saying about them: http://www.peachskinsheets.com/pages/testimonials.

You can also check PeachSkinSheets out on Facebook: https://www.facebook.com/Peachskinsheetscom and Twitter: https://twitter.com/PeachSkinSheets.
Insider Tip #2: PeachSkinSheets make a fabulous gift to ship direct since they come perfectly packaged in orange tissue paper, straight from the box! No need to wrap them yourself, and there is no extra "gift wrapping" charge! You can also have a special note written and placed in the box for your loved one to read. Again, absolutely free! Each set even comes with an adorable matching Peach Pull Keychain! To see an official "unboxing" by Angela Cruz, click here.