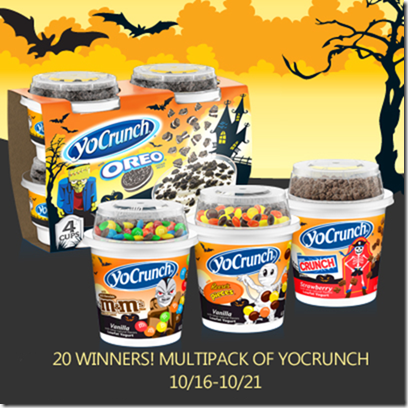 It's Free At Last, Mom Does Reviews, Mom Blog Society & Another Cent Saved have come together to bring you this MEGA-FREEBIE Giveaway!!!! 20 winners will each receive a coupon for a Free Multi-pack of YoCrunch Yogurt (ARV $5/each)
For a limited time each year YoCrunch "dresses up" their cookie & candy topped YoCrunch Cups and Multipacks to add some excitement to the grocer's local dairy cases! With all the candy consumption around Halloween, YoCrunch is a WONDERFUL alternative for a sweet treat with all goodness of yogurt and all the excitement of your favorite cookie and candy toppings.
This year, our Halloween characters are taking over their website and Facebook pages to bring fun messaging and activities and a few special coupon offers to their fans.
20 FANS will have the chance to win a Freebie Coupon good towards any Multi-pack of YoCrunch Yogurt (ARV $5/each)
This giveaway runs from 10/16/12 at 8pm ET, through 10/21/12 at 8pm ET ~~ Entry is simple, just follow the Rafflecopter form below for your chance to win (with 20 winners, you chances are GREAT!!!) Remember, you can't win, if you don't enter!!! Good Luck 😀
Please click "Terms & Conditions" on the Rafflecopter form for details on them for this giveaway
Disclaimer: YOUR BLOG NAME HERE received product in exchange for this review & giveaway. No compensation was received in exchange for this and my opinions are all my own.