Quilo™ is a holistic product that is driven by a vision to protect and enhance the air quality inside your homes, in an environment-friendly manner. Be it on hot summer days or dry winter evenings; the 3-in-1 Quilo™ is a product that you'll want around you throughout the year.
The Quilo™ is a powerful fan that can work as an evaporative air cooler to cool down the room during summers and transforms into a humidifier in winters to remove the dryness from the air and rehydrate your skin.
Focusing on performance and portability, Quilo™ is designed to satisfy your needs of a powerful fan, evaporative air cooler, and a humidifier.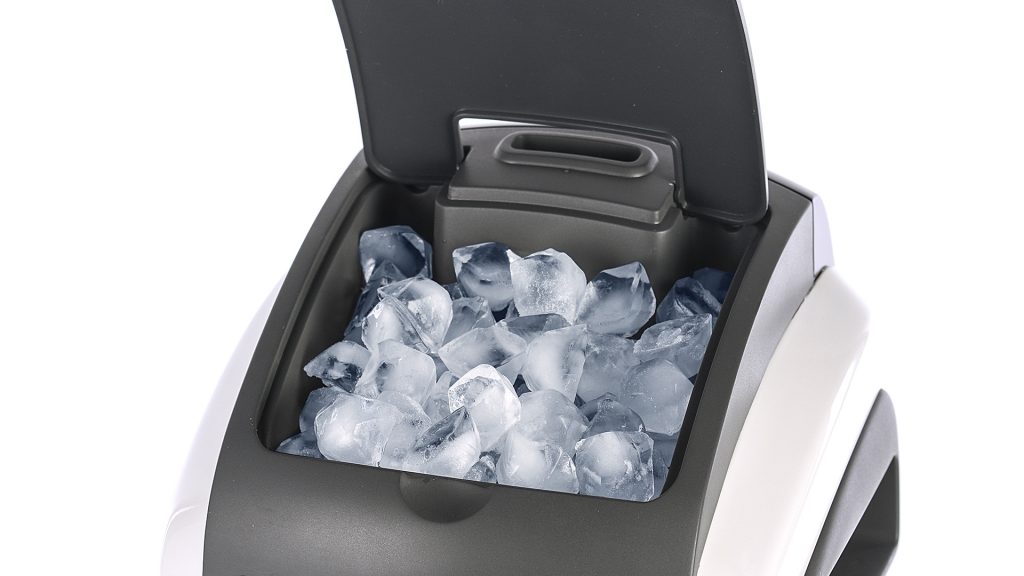 PERFORMANCE
With the ability to reduce the temperature inside your room by 10 to 20 degrees Fahrenheit on a hot sunny day, Quilo™ ensures that you remain cool at all times and not have to deal with the heat indoors. The unit is designed with a highly controllable airflow, which can be increased in summers to cool, and reduced in winters to humidify the room. Its powerful fan constantly circulates fresh air in your room.
Adding water to the tank transforms the fan into an evaporative air cooler, which helps in rapidly reducing the temperature by cooling the incoming warm air to recreate a lake-like breeze. You could even throw in some ice in the designated ice compartment to further quicken the cooling process.
Filling the tank with water on colder days adds moisture to the air, which prevents dry skin by rehydrating it. The water tank is equipped with a water filter, which keeps dust and other particles away from the tank.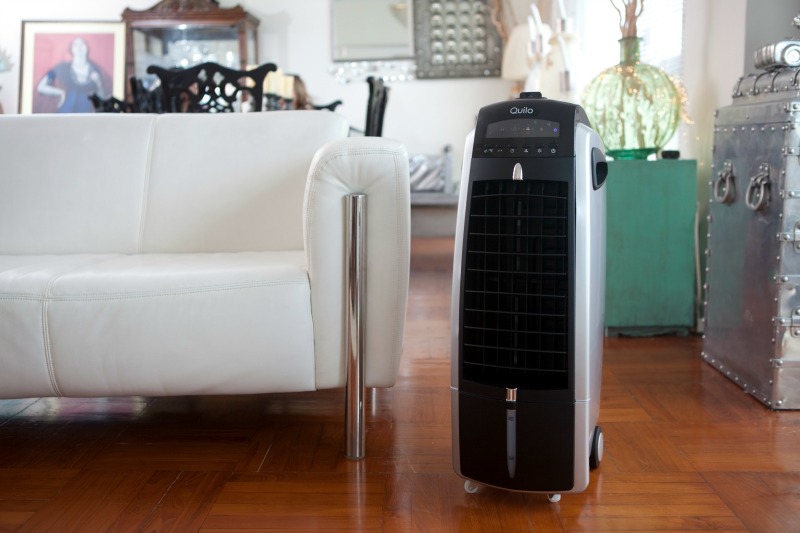 ENERGY EFFICIENT
The Quilo™ is technologically designed to consume around 7.4 Watts of electricity, which is approximately the same as a light bulb, and a mere fraction of the electricity used by a typical air conditioner. Besides low power consumption, the Quilo™ does not have any compressors or refrigerant gases. The use of minimum energy and generation of no greenhouse gases makes the Quilo™ an extremely environment-friendly appliance.
COMPACT AND PORTABLE
The Quilo™ is designed to be a portable air cooler, fan, and humidifier, all for easy maneuvering while complementing your space. This lightweight, compact device has been built with side handles and caster wheels to allow you to move it effortlessly from room to room. There is no installation involved here, and with a detachable power cord and universal voltage compatibility, you can plug it in anywhere, and it will do its job. The Quilo™ also comes with a remote control, making it accessible from across the room.
DESIGN AND ENGINEERING
The 3-in-1 Quilo™ is an energy efficient appliance designed to enhance space and pack a punch in terms of performance. To achieve this, the team over at Quilo™ developed a patent-pending, brushless, universal DC motor technology. As opposed to AC motors, which are usually used to power air conditioners and air coolers, DC motors are typically used in battery-powered devices such as laptops. The use of this groundbreaking technology is what enables Quilo™ to deliver high-quality performance using minimum energy.
Head on over to Quilo™'s Kickstarter page to get your very own 3-in-1 fan. You can buy an air cooler at an amazing price!