Disclosure: I was not compensated for this post. However, I did receive an all- expense paid trip by Alfresco All Natural. The opinions expressed in this post are 100% my own. I am disclosing this in accordance with the FTC guidelines.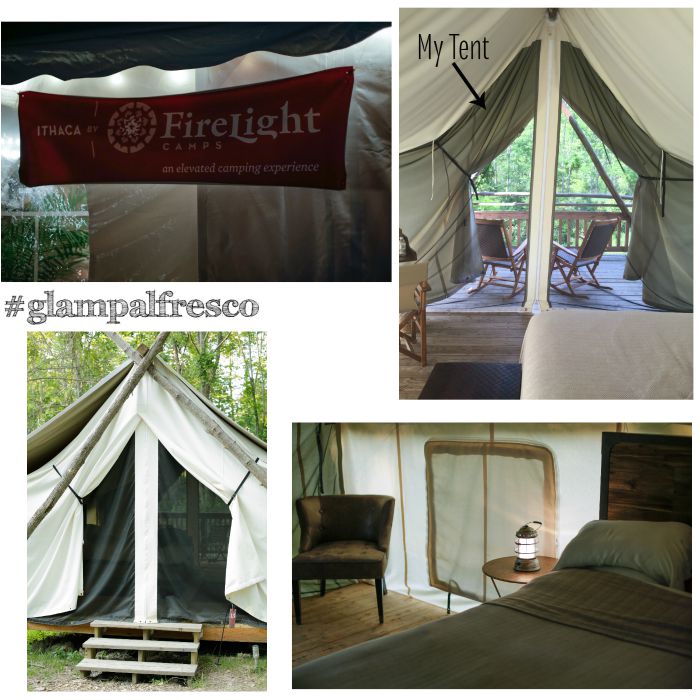 Photo Credit: Images Provided by Gary Tardiff
When I was offered to go Glamping with Alfresco (#glampalfresco) I wasn't really sure what to expect. I knew that glamping was another word for "fancy camping" and that there would be food involved since Alfresco was putting it on. I also laughed when I found out it was in Ithaca NY. Ithaca is only 30 minutes or so away from where I live. In saying that, though, I do not frequent Ithaca nor had I ever gone camping there so I felt like a tourist myself. Pam came down from up north to go glamping with Alfresco, you can read about her experience in her post Have You Ever Been Glamping? #FirelightCamps #Travel? Talk about a fun person. We laughed and laughed and enjoyed eating our meals together.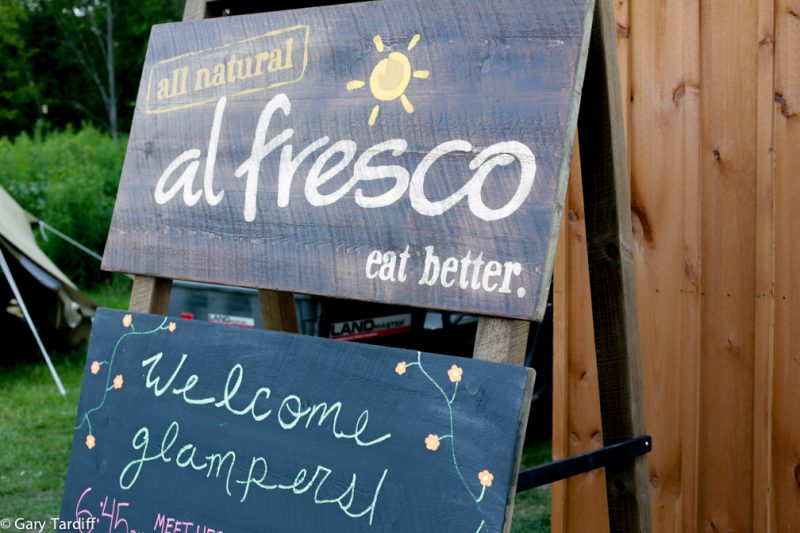 Photo Credit: Images Provided by Gary Tardiff
When we arrived we had some downtime before the first part of our group had our massages. So we went to the Ithaca Falls. We had a very short window to see the falls before our massages. I was not sure what to expect at Moon Spas, so I was a bit nervous. It all worked out and was a neat experience. Spring was the name of the person that did my massage which for some reason I thought was so fitting with the calm atmosphere. Afterward, a few of the bloggers and myself were able to sit in a lounge type area and visit while drinking water to hydrate our systems.
After our time at Moon Spas we went back down to what I would compare to a lounge in a hotel, except this was a tent with drinks and more time to visit with the Alfresco team and fellow bloggers.
When it was time to go to dinner we loaded into two vans and went to the Northstar Pub, which is located at 202 E. Falls St., Ithaca, NY. We enjoyed our time getting to know one another as well as the team from Alfresco and Molly from Connelly Partners. We were also lucky to have Gary Tardiff (Professional Food and beverage photographer) and his wife Kelly Upson (Professional Food Stylist). While at Northstar Pub we enjoyed appetizers and drinks. My favorite were the deep fried macaroni & cheese balls with a special 'jelly' made by the chef (who was one of the judges for our food competition). It is always great to not only feel at home with the PR team from a company but also with the fellow bloggers on the trip. I have to mention that the PR team from Alfresco were superheroes themselves with everything they set up for our time with them.
When we got back to the Firelight Camps we enjoyed a fire with homemade marshmallows, graham crackers and chocolate for our s'mores. Firelight Camps keep a fire going in the firepit from morning until bedtime, this created a nice atmosphere for the camping experience. At some point, everyone retired to their 'tents' to be ready for the day ahead.
After breakfast, we all got prepared for the Alfresco Iron Chef competition. It had to be almost 90° already and cooking on an open grill was going to be somewhat of a challenge in itself. We were all supplied with ingredients from the pantry that Alfresco provided to make our breakfast entree. I was very pleased to have Donna Hup as my partner. She was the one that came up with the great idea to make Mixed Berry French Toast. We used fresh strawberries, blueberries and raspberries from the pantry as well as French toast bread, and flavorful al fresco Apple Chicken sausage patties. (Recipe below).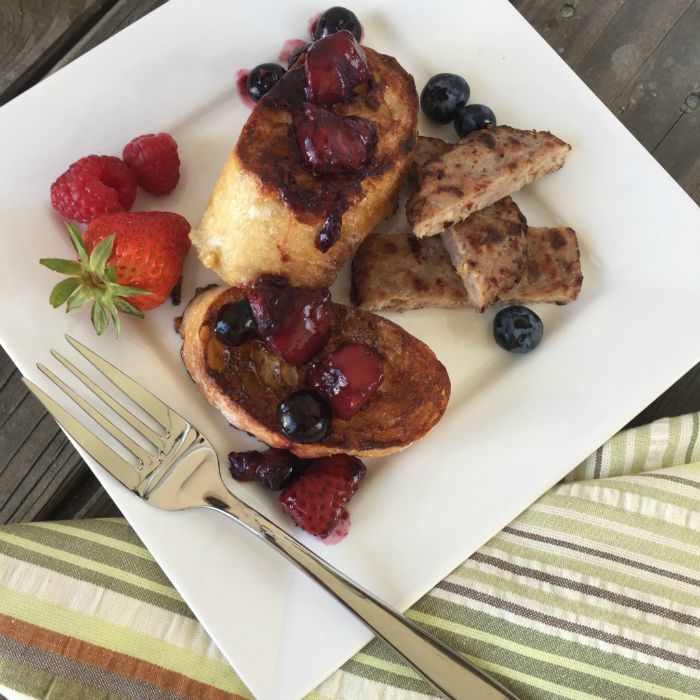 Photo Credit: Images Provided by Gary Tardiff
Food Plated by Food Stylist Kelly Upson
Mixed Berry French Toast
Serves: 4
Ingredients
french bread sliced in 8 pieces about ¾ of an inch thick
¾ c milk
3 eggs
¼ c butter
2 cups strawberries
1 cup blueberries
1 cup raspberries
2 tbsp sugar
Instructions
Melt butter in cast iron pan on the grill. Let it melt, but not brown.
Whisk the eggs and milk together.
Dip the bread in the egg mixture and completely cover. Let the excess drip of the bread and put in frying pan.
Brown on each side.
In the pot over the grill mix the strawberries, raspberries, blueberries, and sugar until they begin to liquefy.
Cook sausage patties on grill.
Plate, serve, enjoy.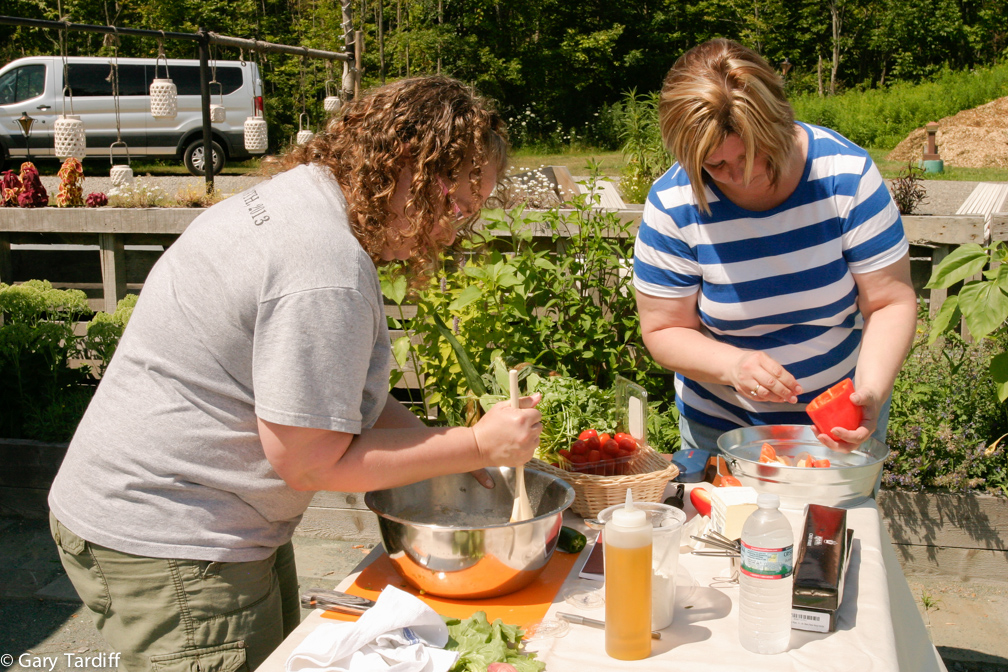 Photo Credit: Images Provided by Gary Tardiff
After we finished our breakfast competition we presented our dishes to the judges and then moved onto the lunch Iron Chef part of the competition. Just like breakfast we were given 45 minutes from the time they said go until they said stop. With this part of the competition, we still had the pantry portion but added to this was a basket of items that we had to use all of the items in the basket. (we did not know ahead of time what was in our particular basket). This proved a bit of a challenge, but one that Donna and I were excited to do. Our basket consisted of corn on the cob in their husks, grape tomatoes, shallots, red pepper, cilantro as well as additions of the pantry.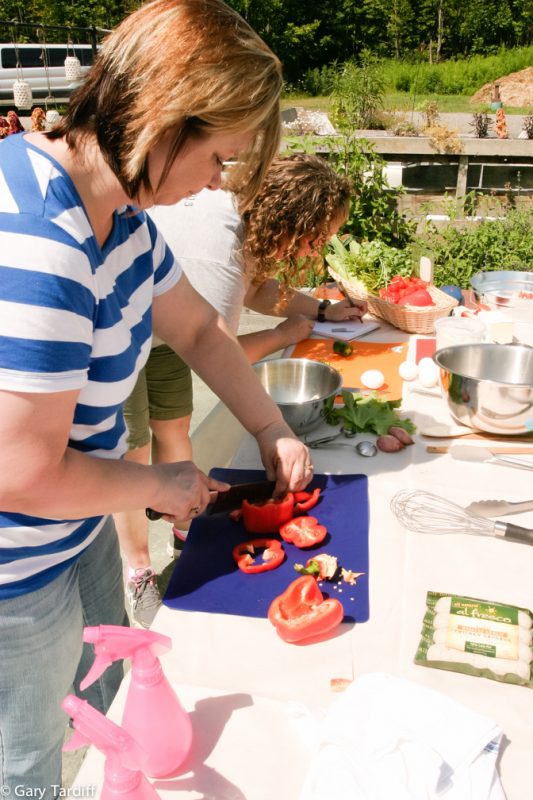 Photo Credit: Images Provided by Gary Tardiff
Our dish was called "Garlic Chicken Sausage Pasta with Spicy Corn on the Cob". Our recipe is below. Again Donna had her thinking cap on and I was happy to help with the prep and cooking.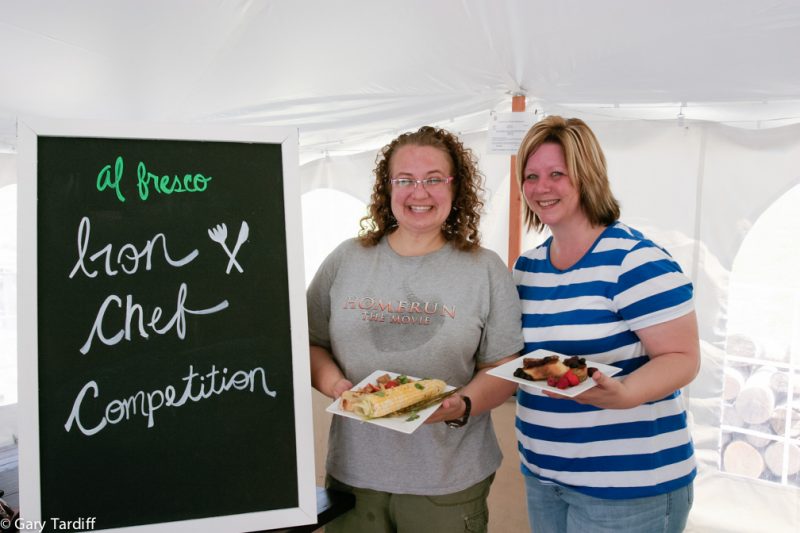 Photo Credit: Images Provided by Gary Tardiff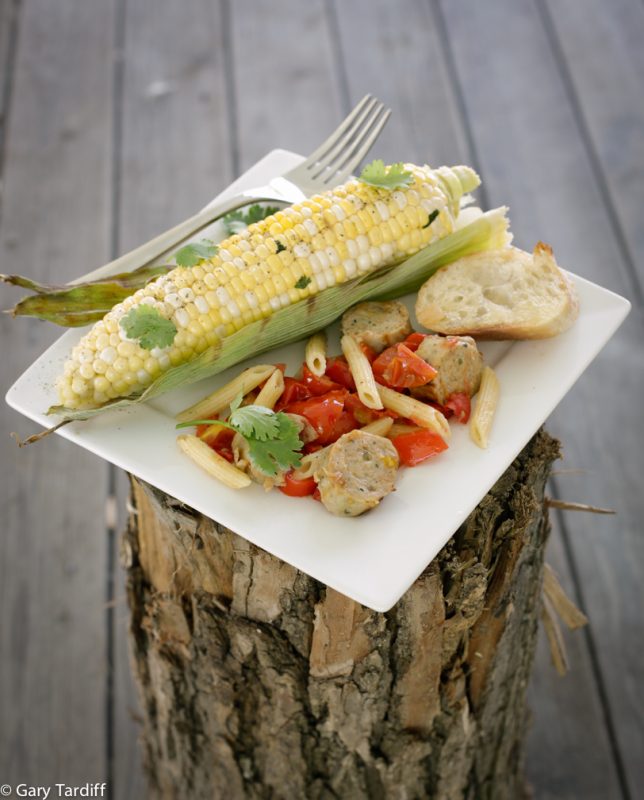 Food Plated by Food Stylist Kelly Upson
Garlic Chicken Sausage Pasta with Spicy Corn on the Cob
Serves 4
Ingredients
french bread sliced in 4 pieces about ¾ of an inch thick
garlic clove
1 cup butter
1 tbsp cilantro, chopped
4 ears of corn in husks
salt and pepper to taste
choice of pasta
al fresco Garlic Chicken sausage
2 red peppers
2 cups cherry tomatoes
3 shallots
2 tbsp olive oil
Instructions
Melt butter with jalapeños and cilantro.
Pull husks back on corn, but do not remove them. Roll the corn in your butter mixture, then pull up husks and grill. Set remaining butter mixture aside.
Cook sausage on a grill.
Make pasta as directed.
Heat pan with oil and dice up the shallots, tomatoes, and green peppers. Add to the pan and sauté.
When your tomato mixture is fully cooked, slice sausage into bite size pieces and add to the mixture. Serve on top of cooked pasta.
When corn is fully cooked, remove the husks completely. Drizzle with the remainder of butter mixture and course salt.
Plate, serve, enjoy.
To see another breakfast and lunch recipe from the Iron Chef competition visit Mom Does Reviews.
Although we didn't win, we had a ton of fun participating in the Iron Chef competition. In my opinion, Donna was a winner of a partner and I would gladly participate in anything with her if given the chance again. After it was over we had lunch provided by Serendipity Catering and then many of the bloggers and the alfresco team went swimming at a nearby swimming area complete with waterfalls. I decided to hang back as I needed some time to unwind.
Before dinner, we were treated to a wine pairing with a local sommelier, Laura Faulk from Experience the Fingerlakes. She showed us how pairing various types of wines with various flavors of al fresco chicken sausages brought out the taste of the sausage and vice versa. You can see Pam from Mom Does Reviews in the upper right corner picture during our wine pairing. We had so much fun together. I am happy that Ladonna allowed me to meet her best friend!
To end our time together, we had another night of campfire fun, more s'mores and a bunch of laughter playing "heads-up". After many, many laughs we said goodbye as quite a few had a very early flight out.
I am thankful that LaDonna allowed me to represent Mom Blog Society for this PR trip. I also enjoyed my time with Sarah, Katie, Sarah, Jared, Gary and Kelly. I am including the social media for each place and if you are ever in Ithaca, New York make sure you check out the beautiful falls attractions, stop by Firelight Camps to see what they offer, as well as the Northstar Pub.
Social Media:
alfresco:
facebook | twitter | pinterest | YouTube | Instagram | Website
Firelight Camps
facebook | twitter | instagram