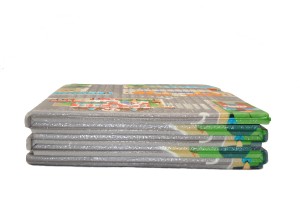 Little children have endless imagination and love role play. The idea of being in charge of a big world gives them a sense of accomplishment and joy. The Everywhere PlayMAT provides two unique, imaginative play scenes for your little one to take charge of.
"Finally, a well-designed playMAT that lasts through the developmental stages of your child! Our play MATS have been designed to cushion and delight babies during tummy time, entertain toddlers for play time, and encourage young learners of all ages to engage and explore. Search for the hidden characters, count the creatures, sound out letters, or master the road rules: the only limit is their imagination! "
This padded mat is innovative and so convenient! It folds in half so that it can fit into a smaller space. It then features an accordion fold that makes it easy to pack away. There's no trying to figure out in which direction it needs to fold.
For me, the Everywhere PlayMAT played an important part in my nineteen month old son's development. He was still not walking unsupported, although we knew he could. He just did not want to let go. Last Friday night, I put out for him the PlayMAT for the first time. He hesitantly marched across. I thought it was another "by mistake" (he had taken a few steps unsupported in the past, but wouldn't repeat it). But then he did it again. Since then he has been practicing walking all day, every day!
I actually spoke to a friend of mine who was having trouble getting her one year old to crawl. This baby was receiving physical therapy and the therapist advised my friend to get a PlayMAT so that her daughter can learn to crawl (it worked.) Having a padded but firm play area for little children provides great developmental benefits.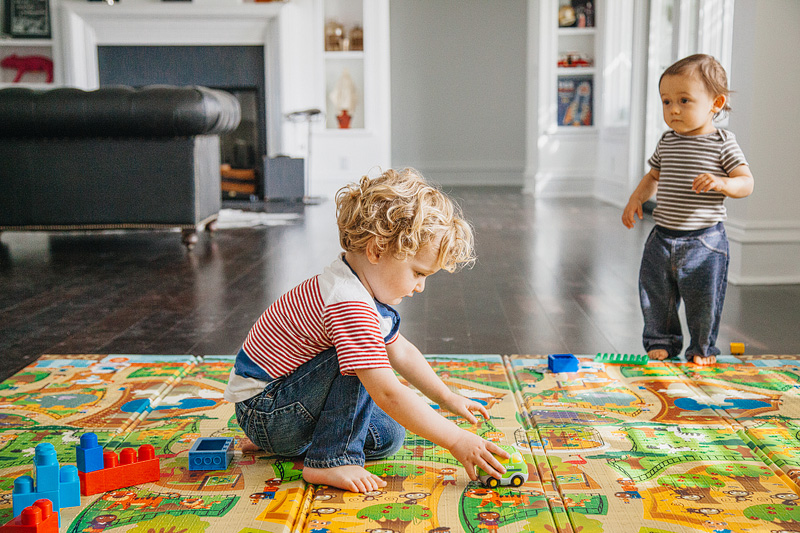 The Everywhere PlayMAT also provides extra possibilities for play. One side features a detailed zoo scene, illustrated in child-friendly, simple shapes. The other side is a fun city scene. We pulled out all the toy cars and showed M how he can practice his fine motor skills. We taught him to trace the shape of the road with the car while saying "vroom!". The Everywhere PlayMAT gives so many possibilities for open-ended fun! It also works from birth as a comfortable-but-firm tummy time mat.
Features and Specs:
For ages 0 months and up
Open measurements: 6.56FT x 4.9FT x 8mm
City on one side and zoo on the other.
Accordion fold allows it to adapt to smaller spaces.
Comes with a convenient storage/carry case
The Prince Lionheart Everywhere PlayMAT is a perfect gift for any child or mom. It provides years and years of productive, open-ended play. It is created with yours and your child's needs in mind.
Connect with Prince Lionheart:
Shop Prince Lionheart | Facebook | Twitter
Disclaimer:
This product was received from the Company for review purposes only. All thoughts and words in this post is my own and I was not paid to endorse it. I am only voicing my opinion about this product.