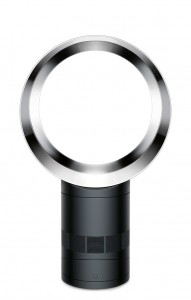 The Dyson Air Multiplier AM06 10″ table fan is incredible! Not only is it bladeless, but it's remote controlled too! One of the things I love the most is that it's quiet. The remote control offers 10 settings, oscillation control and a sleep timer. which can be programmed to turn off as well. The fan itself does not have blades. Air is accelerated through an annular aperture, drawing in surrounding air to project smooth, powerful, high-velocity airflow. I love that it's bladeless because you don't have to worry about the kiddos sticking their fingers in the fan. You can actually put your entire arm though the circle of the fan while it's running. How cool is that?
Assembly is extremely easy. You simply snap the top and bottom together and it's ready. The durability is amazing! I knocked the fan off the table which sits about three feet high, There was a loud crashing to the the floor and I was scared that I had broken the fan. After picking it up and turning it on I was amazed that not only did it still work, but it wasn't even damaged cosmetically!
After using the Dyson bladeless fan for just a few short weeks, I can honestly say I would purchase this fan for every room in my house without hesitation.
Manufacturer's Description
Instead of using blades, Dyson fans use patented Air Multiplier technology for powerful airflow projection. Air is accelerated through an annular aperture, drawing in surrounding air to project a high-velocity cooling airflow. And with no blades, the airflow is smooth – not choppy. Dyson engineers developed AM06 to be quieter and more energy efficient than its predecessor. Streamlined air channels reduce airflow turbulence so that air passes through the machine more quietly and with greater efficiency. It also has an acoustically engineered motor bucket to reduce vibration and therefore noise. The result is that AM06 is 75% quieter than AM01. Energy efficiency has also been improved. With smoother airflow through the machine, the DC motor doesn't need to work as hard – so less energy is required to channel the air for powerful performance. The addition of a sleep-timer further reduces energy wastage by ensuring the Dyson Cool fan switches off automatically when it's not needed. AM06 can be programmed to turn off after preset intervals ranging from 15 minutes to 9 hours. AM06 comes with a remote control providing 10 precise airflow settings – as well as one touch oscillation control for smoother oscillation. For extra convenience, the remote is curved and magnetized to store neatly on the machine. With no fast-spinning blades or awkward safety grilles, AM06 is safe and easy to clean. And like all Dyson fans it comes with a free 2 year warranty – parts and labor.
Patented Dyson technology
Dyson engineers are constantly testing and investigating, trying to find new ways to make things work better. They improve existing technologies and invent new ones. As they work, they file patent applications to protect their inventions from copycat manufacturers. That's why the only place you'll find Dyson technology is inside a Dyson machine.
Dyson Air Multiplier technology
AM06 uses Dyson's patented Air Multiplier technology for powerful airflow projection, with no chopping blades. With Air Multiplier technology, air is drawn in at the base of the machine. It is accelerated through a 2.5mm annular aperture, generating a high velocity jet of air. This passes over an airfoil-shaped ramp, channeling its direction and creating areas of low pressure behind and around the fan. The change in pressure forces surrounding air to be drawn into the airflow – called inducement and entrainment. There are no chopping blades, so there's no buffeting – just a powerful stream of smooth cooling air.
Connect with Dyson: Shop | Facebook | Twitter | YouTube
Disclaimer:
This product was received from the Company for review purposes only. All thoughts and words in this post is my own and I was not paid to endorse it. I am only voicing my opinion about this product.