Among the many details you need to consider when planning your wedding, there is one important question you need to answer: Are children welcome? Inevitably, some of your guests will be parents, and while many will happily leave the little ones at home, there are times when guests will want (or need) to bring their children along.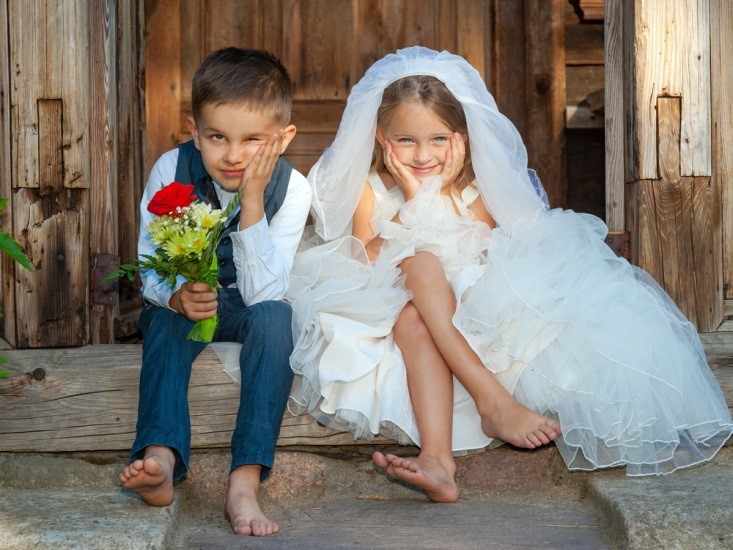 So how do you handle the under-18 crowd when it comes to wedding planning? A lot depends on what kind of day you're dreaming of, your budget, and where you plan to have the event. Obviously, inviting children can change the dynamic of the event; while you can still plan a formal, black-tie, champagne-fueled soiree at your dream wedding banquet hall, the presence of unpredictable children can take the evening from elegant to chaotic fairly quickly. Not to mention, including children on the guest list increases the cost of the event. A children's menu will be less expensive, but you still need to account for small people when tallying up the final head count and cost-per-person.
If after taking all of that into consideration, you still want to invite children to your wedding, there are a few things to keep in mind.
When Kids are Welcome
The best way to let guests know that they can bring their offspring to the wedding is to include the kiddos on the invitation. Addressing the invitation to "Mr. and Mrs. John Smith and Family" sends the message that the children are welcome. If your budget allows, it's a nice gesture to send teenagers their own invitations, but that's certainly not required; proper etiquette dictates that guests over age 18 receive their own invitations, so use your discretion for younger teens.
If you're inviting children, keep them occupied during the reception. While most adults will find the eating, dancing, and other activities of the reception entertaining, kids will get bored easily. Consider hiring a babysitter (or several for a larger crowd) and providing a separate room where the kids can hang out when the "grownup stuff" gets too boring. At the very least, offer crayons, coloring books, and other kid-friendly activities to keep them occupied.
Food is always an issue for kids, so try to include at least a few kid-friendly options if you aren't creating a special children's menu. Buffets are always popular with families, but if you'd rather have a plated meal, be sure there are foods that children will eat to avoid wasting food. As far as seating children, many experts recommend seating tweens and teens together at their own table — with the understanding that there is always a chance of shenanigans when groups of children get together — with younger children seated with either their parents or in a separate room, with supervision.
When the Kids Should Stay Home
Whether you opt to ban children from your ceremony and reception entirely, or only allow them to come for some of the festivities, again, communication is key. Some parents, even when their children are specifically not listed on the invitation, return an RSVP card indicating that the children will be joining them, which leads to awkward conversations and potentially hurt feelings.
If you suspect that some of your guests will assume that their children are invited, a preemptive phone call can prevent misunderstandings. Be sure to let everyone know that your decision to make your wedding childfree isn't based on your concerns about any one particular child (even if it is). Ideally, you should make this clear before the invitations go out. It's also a good idea to spread the word via the wedding party and/or your parents, so that they can answer questions should guests go to them.
You also need to prepare yourself for the likelihood that a guest may disregard your wishes and bring their child along anyway. While it's undoubtedly rude on their part, if you suspect that someone may ignore your "child-free" dictate, you should remain gracious and polite. Having a few coloring books and crayons on hand just in case can go a long way to quelling a mini-rebellion, but don't feel like you have to do much beyond that to address a rude guest.
Whether or not to have children at your wedding is a personal decision — and it is yours. You know what kind of event you want to have, so don't let others pressure you into doing something you aren't comfortable with. Your young friends and relatives will have plenty of their own wedding to attend in the future.