Delivery Man arrives on Blu-ray, DVD, Digital and On-Demand on March 25th. Featuring Vince Vaughn, Chris Pratt and Cobie Smulders, this feel-good release delivers bonus materials including behind-the-scenes footage and bloopers.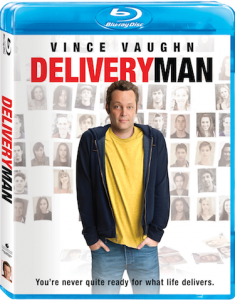 DON'T MISS VINCE VAUGHN, COBIE SMULDERS & CHRIS PRATT IN THE OUTRAGEOUS AND HEARTWARMING STORY ABOUT AN AFFABLE, MIDDLE-AGED UNDERACHIEVER WHO FINDS OUT HE HAS FATHERED 533 CHILDREN.
Film Synopsis: In this heartwarming comedy, underachiever David Wozniak (Vince Vaughn) learns he's actually an overachiever — he's fathered 533 children via donations made twenty years earlier! David soon discovers that the shock of his life might just be the best thing that's ever happened to him. Along the way he discovers not only his true self, but also the father he could become. Also starring Chris Pratt and Cobie Smulders — and complete with bonus materials, including behind-the-scenes footage — it's a feel-good movie that really delivers.
Cast: Vince Vaughn (Wedding Crashers, Couples Retreat) as David Wozniack; Cobie Smulders (Marvel's The Avengers, TV's "How I Met Your Mother") as Emma, David's Girlfriend & Chris Pratt (Moneyball, The Five-Year Engagement) as Brett, David's Best Friend
Executive Producer: Scott Mednick (300, We Are Marshall, Superman Returns)
Director & Writer: Ken Scott (Starbuck)
Release Dates: March 25, 2014 (Direct Prebook: 1/28; Distributor Prebook: 2/11)
Available Formats: 1-Disc Blu-ray, 1-Disc DVD, Digital HD/SD & On-Demand
Bonus Features: Building Family (Blu-ray & Digital) Vince Vaughn: Off The Cuff (Blu-ray & Digital) "I Got The Part" (Blu-ray & Bloopers (Blu-ray, DVD & Digital)
Delivery Man arrives on Blu-ray, DVD, Digital and On-Demand on March 25th