I always wanted to learn how to play the guitar. Unfortunately I am pretty girly and didn't care for the callouses you get when playing. So, I gave it up in favor of nice hands and pretty nails.
I originally got the ChordBuddy Jr. for my daughter who has always wanted to play the guitar but it was a tad too small for her.
So it went to a good friend of mines daughter and this is what she had to say:
In the month Alicia has had the ChordBuddy Jr. she has learned a few chords and can even play a song. She loves it and I even use it as an incentive for her to do her homework or chores. If you have a child that wants to learn how to play the guitar you really should try out ChordBuddy Jr. It really works!
Chord Buddy Jr.
The only guitar in the world a 4-8 year old can play instantly! Chordbuddy Jr is a REAL guitar in miniature – this is NOT a toy, it's a real guitar with all the quality and features of a full size acoustic guitar.
What's In The Box:
a half size acoustic guitar (30 inch)
ChordBuddy Jr device
guitar tuner
songbook and instructional DVD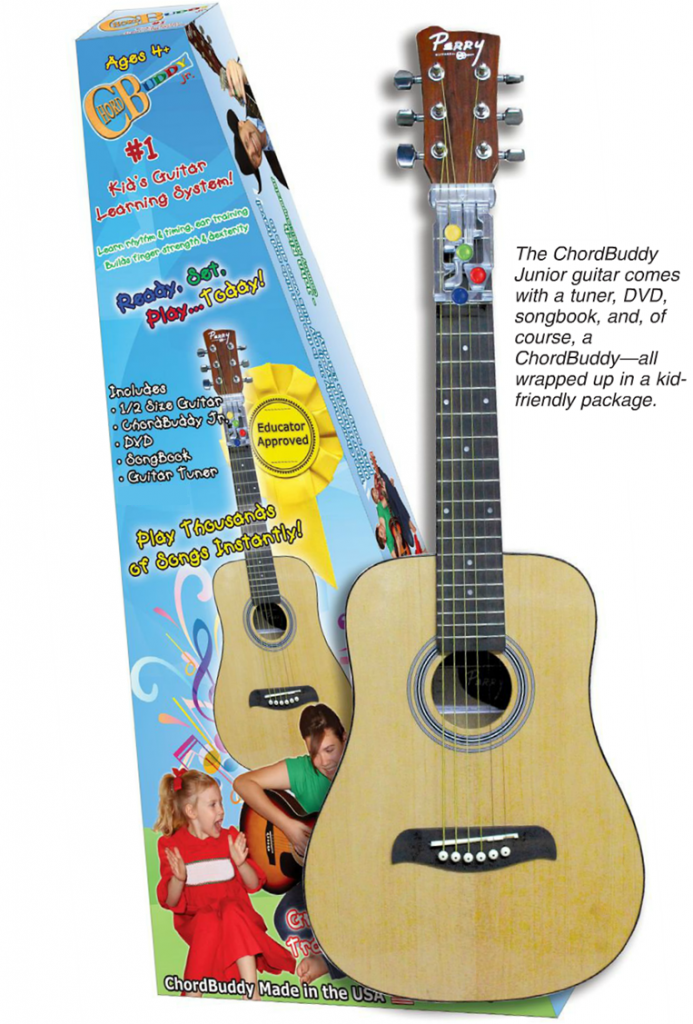 Important Note-
Please note that unlike the full size ChordBuddy, ChordBuddy Jr's tabs are not removable. The device itself can be removed from the guitar but it is made as a single molded piece.
If you don't believe us on how easy it is to use ask John Rich. He shows you how easy it is to play "Save a Horse, Ride A Cowboy" using ChordBuddy.
You don't have to be a kid to learn how to play the guitar, ChordBuddy is great for adults too and makes a wonderful Christmas Gift for the music lover in your life!
More Information:
Disclaimer:
This product was received from the Company for review purposes only. All thoughts and words in this post is my own and I was not paid to endorse it. I am only voicing my opinion about this product.