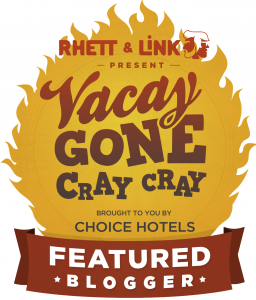 Talk about a super Summer Contest:
Choice Hotels is giving you a chance to win $10,000 for a redo #VacayGoneCrayCray, in Celebration of their 75th Anniversary. The contest entry deadline is August 27, 2014 at 11:59 PM, EST, and the potential winner will be announced September 4, 2014. So, want to know how to win? Ok, but first let's watch LaDonna's #VacayGoneCrayCray:
Now's your chance, go to
#VacayGoneCrayCray
now to enter. Every Thursday
Rhett & Link
will reenact the #VacayGoneCrayCray that they believe is the worst of the worst. Get your video ready to record and get yourself entered now. I can't wait to see your videos!
For Official Rules, etc., go to www.vacaygonecraycray.com, you will also see the complete list of prize.
Choice Hotels has the Choice Priviledges Program for those that stay frequently. It's a wonderful program.
As of March 31, 2014, 398 hotels, representing more than 30,000 rooms, were under construction, awaiting conversion or approved for development in the United States.
Everytime my family goes on a vacation/business trip, we always stay at a Choice Hotel. My father in law is a member of the Choice Priviledges Program, because we always put the room in his name.
Choice Hotels, Choice Hotels International, Choice Privileges, Comfort Inn, Comfort Suites, Quality, Sleep Inn, Clarion, Cambria Suites, MainStay Suites, Suburban Extended Stay Hotel, Econo Lodge, Rodeway Inn, and Ascend Hotel Collection are proprietary trademarks and service marks of Choice Hotels International Inc.
Connect with Choice Hotels: Facebook & Twitter
Disclosure: Compensation was provided by Choice Hotels. The opinions expressed herein are those of the author and are not indicative of the opinions or positions of Choice Hotels.