WALLYLKAZAM! FRUIT FRENZY ON NICKJR.COM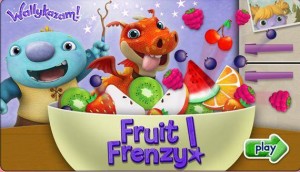 NickJr.com is bringing magic to your home with the release of a brand-new online game based on the hit preschool series WallyKazam!. Available today, kids can get to hopping and help their favorite Wallykazam! characters prepare a delicious fruit-filled picnic for Gina the Giant.
In this new platform style game, Wally and Norville hop around the kitchen as they gather up ingredients for their fruit salad. Their fun and excitement quickly gets out of hand when BobGoblin drops by and casts a spell on all of the fruit causing it to hop around uncontrollably. To make matters worse, Norville gets whisked away in one of the bouncing fruits. Now it's up to players and Wally to gather up the runaway fruit by bouncing, hopping, leaping or jumping, in order to save Norville and make their picnic a success.