Britenz

If you are looking for a safe and affordable way to get brighter and whiter teeth then our next review is just for you. Britenz is an easy to use pen that applies an all natural effective and refreshing teeth whitening formula in minutes.
We recently had the opportunity to work with Britenz and review their teeth whitening product. We were sent a gel whitening pen to review free of charge. I have been looking for a safe and affordable way to whiten my teeth for quite a long time. I have tried messy and annoying trays in the past and was not impressed with them. While making an appointment at the dentist is probably the best way it is also the most time consuming and expensive. I was extremely excited when the gel whitening pen arrived. While this is not my first whitening product, I find the best way to help maintain Oral Health is prevention. Along with brushing, you can use a water flosser (which is far more fun than traditional floss) to help keep away plaque and keep your teeth white. Not many people have heard of a Water Flosser so here is a great article by Water Flosser Guide explaining the pros/cons. Trust me your dentist will be very happy if you buy one of these!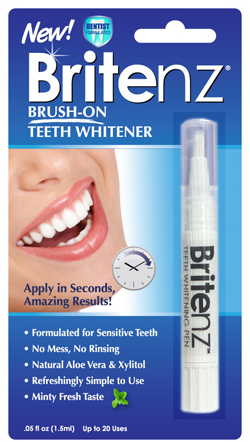 Now for our review of Britenz. Overall we are completely satisfied with Britenz Gel Whitening Pens. The pen is so easy to use and allowed to apply the gel to my teeth in seconds. This was perfect because it allowed me to whiten my teeth on my schedule. Between work, carpooling with the kids and running everyone's errands I am lucky if I find time to make myself a cup of coffee. One gel pen allows for about 20 uses and I am extremely happy with how easy it is to use and most importantly that I am able to whiten my teeth without annoying, uncomfortable, messy trays. I noticed a significant difference in just a few hours.
Britenz Teeth Whitening Pen contains natural hydrogen peroxide and other natural ingredients such as xylitol, aloe, CoQ10 and natural peppermint extract that help in promoting safe and natural whitening.
If you would like more information or to purchase Britenz Whitening Pen, please visit the Britenz Website. Britenz is available at Whole Food Stores Nationwide. You can also find Britenz at select Walgreens stores.To find a store near you click here. Be sure to stay up to date on all of the latest news and products from Britenz by following their social media pages on Facebook and Twitter. While you are there be sure to follow Mom Blog Society on Facebook and Twitter.
***Please remember that as with all teeth whitening products, results may vary per person.***
Disclaimer: Mom Blog Society received product free of charge to write our review. All opinions stated in our review are our own truthfully opinion and were not influenced by the sponsor or from getting the review product free of charge. We were in no way compensated for our review or opinion.