In all of the years I have washed my hair, never have I heard of a 5 in 1 Cleansing Conditioner! Can you imagine using a product that could replace 5 of your normal everyday products? If you can't, then you are going to flip after hearing about this awesome product! Also, you will have more room on the shelves of your shower.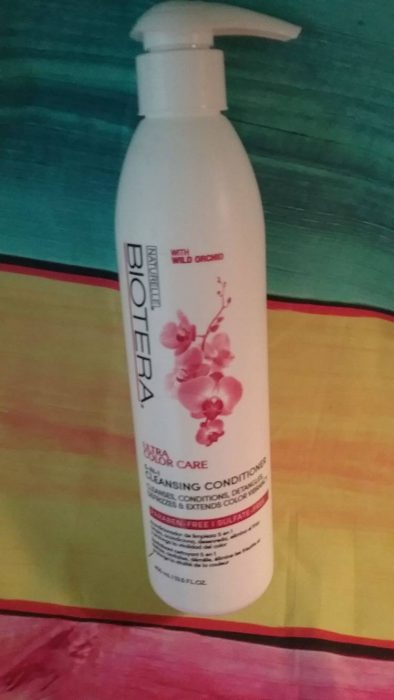 Biotera Ultra Color Care Sulfate-Free 5-in-1 Cleansing Conditioner is a one-step wonder product that replaces your shampoo, conditioner, deep conditioner, detangler, and shine treatment all in one. I don't even use a shine treatment but since it is included in this 5 in 1 you can bet I do not mind! I like to shower as quickly as possible. Most days I eliminated my conditioner because I didn't want to take the time to have to put another product in my hair. THEN have to wait x amount of minutes until I can rinse that out.
Obviously in the name you can tell it is color safe and sulfate free. I know this is important to those that color their hair and like a product that is free of sulfates. This product is also paraben free. It is a gentle, no-suds cleansing conditioner that has a creamy formulation that cleanses as it conditions. This will enhance the color vibrancy and as well and offers your hair a radiance that you won't find with other shampoo and conditioner products. It will leave your hair soft and controlled with less frizz. The Biotera Ultra Color Care Sulfate-Free 5-in-1 Cleansing Conditioner is infused with 100% more extracts and botanicals.
How to use it: Massage product through wet hair, from scalp to ends. Add a splash of water to distribute. This product does not lather, should be rich and creamy. Leave in for 3-5 minutes. Rinse thoroughly. What I love about this is I can wash the rest of my body while waiting and shave my legs.
I believe this product is definitely worth trying. You can purchase it here. If you try it let us know what you think in the comments.
Facebook |Twitter|Pinterest|Instagram|Website