Business owners must walk a fine line when creating websites for children's products and services. On the one hand, they need to appeal to the children who visit their websites. That means the site must be fun and simple. On the other hand, they also need to convey professionalism. That ensures any parents who visit the site trust the business behind it.
It's a difficult balance to strike. Those businesses that succeed tend to have websites that instill trust and offer exceptional user-friendliness. That's something that good family WordPress themes can help you with. A quality theme will take all of the headaches out of the design process. This means you only need to focus on providing great content, without worrying so much about the presentation.
A great theme will offer you all of the tools you need to create a website. A bad theme won't. That's something that we hope to help you with. We have listed some of the best family WordPress templates we offer. Each of these themes will help you create a great business website that caters to both children and adults.
AppyTimes – Summer Camp WordPress Theme
Summer camp is a great experience for all children. The AppyTimes theme lets you show just how much fun your camp can be. It also offers a bunch of tools that you can use to customize the theme.
Let's start with the basics. The theme comes with a set of stock photos. You can use these as you wish or replace them with photos of your camp. You also get access to a talented technical support team. Call them day or night and they will be there to help you solve any problems you have with the template.
Ease of customizability stands at the core of the AppyTimes theme. You can drag any modules you want into the design so you can build the site that best suits your camp. The theme offers full integration with the Cherry suite of plugins. That offers you plenty of customization options. You can get the theme installed in just five minutes and then spend your time tinkering with the user-friendly options that it makes available to you.
Redwoods WordPress Theme
Another theme that focuses on summer camps, Redwoods offers a few key differences to the Appytimes theme. For one, it features a retina ready responsive design. This means your website will react depending on the devices users access it with. A smartphone user will see a site that looks just as good as a desktop user. Better yet, the site adjusts clarity depending on the screen. That means you don't have to worry about accounting for those with low-pixel screens.
The MegaMenu feature is a boon for camps that offer lots of programs. It allows you to create a strong main navigational menu. From there, you can add all of the sub-categories you need. Simplicity lies at the heart of the MegaMenu system. You can create in-depth navigational options in a matter of minutes.
Beyond that, Redwood has full integration with MotoPress Editor. This helps you make quick adjustments to your website's visual elements. The handy image slide is just the cherry on top. Use it to create an eye-catching banner.
Optima – Family Therapy WordPress Theme
Family therapy is a delicate issue. This is where the previously mentioned balance between accessible and professional comes to the fore. Optima has built a quality WordPress theme that ensures visitors trust your business. As any therapy business will tell you, this trust is crucial to long-term success.
Optima features the same drag and drop module installation as the AppyTimes theme. This means you can customize the site with whatever media you feel best advertises your business. You also have access to several pre-created layouts. You can choose one and then customize it to suit your needs.
Therapists will also find the 'Appointment Manager' plugin quite useful. Your theme will help you keep track of any appointments you set with clients. Beyond that, it helps you avoid double booking and informs visitors about your session availability. You also don't need to worry about search engine optimization (SEO). Optima was built with SEO in mind, so you can feel safe in the knowledge that the site will perform well in search engines.
Highridge Center – Kindergarten & Child Care WordPress Theme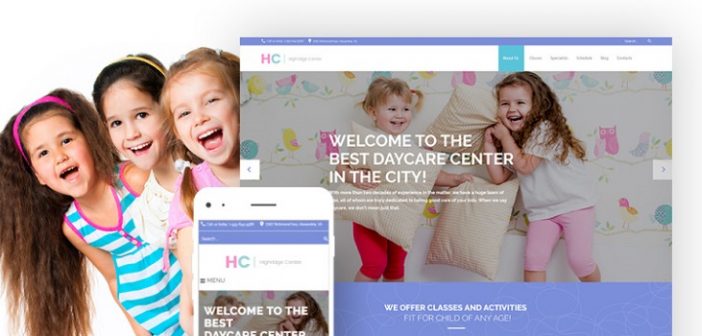 The Highridge Center WordPress theme offers everything you need to advertise a kindergarten or child care business. You can create a crystal clear website that emphasizes the visual aspect of your business. Show parents happy children playing and they will be sure to trust you. Again, customization shines with this theme. The drag and drop Power Page Builder allows you to quickly get your website's structure sorted. You can even install custom widgets.
The handiest feature in this theme is ensured by the 'Timetable' plugin. This will allow you to inform parents of any special sessions your business holds. Kindergartens can also use it to let parents know what lessons their children will take.
The theme features clean code. This makes it much easier for search engines to navigate. It also makes the theme fast, regardless of the device used to access it. This speed will ensure people don't bounce away due to impatience when they come to your website.
Family Planning WordPress Theme
Those looking to start their families need as much information as possible. Great family planning websites present this information in a simple format. That's what the Family Planning WordPress theme specializes in. As a website owner, you can make the vital information your visitors need as clear as possible.
Design by family planning professionals, the theme is fully responsive. Visitors can access what they need regardless of the devices they use. The stick to the top menu makes navigation easy. It ensures visitors can find their way around the site, no matter what pages they may be looking at.
The theme uses WPML. This allows you to present your information in several languages. Those looking to offer family planning services in multicultural countries will find this feature very useful. Couple the Google Maps integration, and you make it easy for visitors to find your business and trust the information that it presents.
Sunrise – Kids Center & Kindergarten Responsive Website Template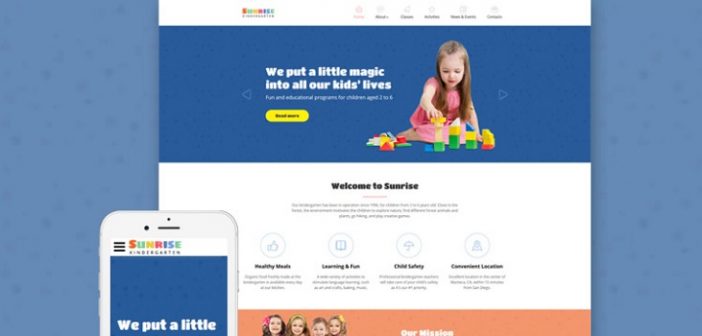 Another quality template for kindergartens and child care centers, Sunrise, offers full responsive design. This makes it ideal for business owners who want parents to be able to access their websites when they're on the go. It also looks the part. This is a nice, clean kindergarten html theme that makes it easy to create a great website.
However, it's the extra customization options that make Sunrise such a great theme. Chief among these is the 'Mega Footer' plugin. You may have a lot of information that you want to deliver to visitors. A standard navigational setup may not always allow you to do so quickly. That's where the Mega Footer helps. It allows you to create huge footers that display on every page. With it, you can offer visitors access to key information no matter where they are on the website.
The template also has valid semantic coding and has full integration with 500+ Google Fonts. This gives you hundreds of fonts to play around with. You even get between 7 to 15 high-resolution stock photos as part of the package.
Teddy – Kids Shop WooCommerce Theme
Making use of the online commerce functionality, this Kids Shop WooCommerce Theme offers everything a children's store owner could need. You can easily create as many product categories as you want. Better yet, you can split these into subcategories as needed. There's even a useful search function. This means that visitors can zip around your website to find the products they want to buy. You can even use filters to help people narrow their searches even more.
A quality navigation structure is just the start. The theme also looks the part. It's easy to install and allows you to customize your website on the fly. Any changes you make in the backend will shop up instantly on the site. This proves ideal for businesses that rotate their stock often.
The Teddy WooCommerce theme will also help you place your big sellers front and center. It comes with a tagging system that shows visitors which categories are the most popular on your site. The 'Products Carousel' widget also helps with this. Using this, you can advertise some plenty of your products. Use it to highlight items that are on sale or new to the store.
Babysitter Responsive Website Template
A good babysitter website should allow parents to find childminders no matter where they are. After all, you can't account for emergency situations. That's why the babysitter html template proves so useful. It's 100% responsive, meaning that people can browse it comfortably on any device. You will ensure your customers can find and hire babysitters at a moment's notice with this template.
So, what about the design aspects? Well, the template comes with an array of 7-10 high-quality stock photos. You can use these to add some more flavor to your website. Best of all, you don't get charged for any of them. The handy slider gives you a great place to put them all on display. You can create a banner of high-res images in moments to demonstrate the quality of your babysitting service.
The theme also comes with a handy contact form. This ensures you get messages instantly. Couple that with the Google Maps integration and you can show visitors where you are so they can decide if you are the right babysitter for them. The theme comes with plenty of documentation, which will help you out if you get stuck. You also have a 24/7 lifetime access to a technical support team as part of the package.
Falero Wedding Photographer WordPress Theme
Weddings are always special occasions. That's why people want to document them as much as possible. A great wedding photographer helps the married couple create a treasure trove of memories. As a wedding photographer, you need to a great theme to help you show your talents. Competition is rife, so rely on the Falero WordPress Theme to help you stand out from the rest.
The priority on any photographer's website is the pictures. Falero features clean page templates that place the emphasis on the visual elements of the website. Your pictures will stand front and center. This offers visitors an instant idea of what you can offer as a photographer. Beyond that, you can also incorporate other types of media. Some even use the main theme banner as a video gallery.
The template covers the technical side too. 100% responsive design is crucial in the modern web environment. Falero ensures all visitors can see your pictures in a high-quality setting. It doesn't even matter what devices or browsers they use to view your resource.
Jen+Ben – One Page Wedding WordPress Theme
Want to announce your wedding to the world? That's what this Wedding WordPress Theme is for. You don't need any technical knowledge. Instead, this theme lets you create a stunning and simple website that you can use to tell everybody about the big day.
Don't let the one-page setup fool you. The theme has plenty going on underneath the hood. It features a drag and drop Power Page Builder to help you customize your page until it looks exactly how you want it to. You can also call upon the layout library to help you along. Many pick a basic layout and then use the page builder to flesh out their websites.
You also get a choice of seven header layout variations. Beyond that, the theme has fully Cherry plugin pack integration and can even handle custom widgets. You even have access to a support team 24/7, if it all gets too complicated.
You have a lot of choices available to you when looking for the best WordPress themes. The quality of the design is just the beginning. You also need to consider the specific features that each theme has to offer. What's more, it's important that these features mesh with what you're trying to achieve as a business owner.
These best 10 WordPress family templates all have plenty to offer. Take your time to explore the live demos attached to each one of them. From that, you should get an even better idea of which template will suit your needs as a child or family-focused business.
Have you used any of these templates before? We'd love to hear from you, if you have. Let us know about your experiences in the comments section below. Your feedback could help somebody choose the perfect theme.