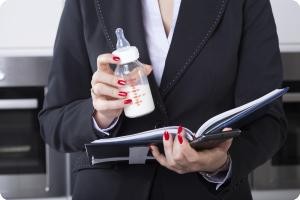 Can you juggle motherhood and work at the same time? Then you'd be a great work from home mommy. As a writer, I love every moment of it. There are ups and downs, but that's with any job that exists.
My number 1 priority is here with me all day, being that he's only almost 4. Jacob tries to help out in any way he can.
My 17 year old, Sarah, also helps with the reviews that I do. She's a great influence to me. I've already asked her to work for me full time this summer. We work great together. She is my product tester, then tells me her thoughts, and I write them out.
Balancing things can be a challenge, but for the most part, it's easy. When I was starting it seemed more difficult. If you are going to start up, don't give up. That's my biggest piece of advice.
I juggle two of my own sites: Life With My Two Kids & This Frugal Family. I also work for the most wonderful woman, LaDonna Dennis, for Mom Blog Society, the site you are looking at right now. I also work on other sites, such as Trail 404, S.H.E. Informed & Night Helper, just to name a few.
Overall, you could say I'm a very busy momma. It's all worth it though. I wouldn't change any of this for the world.
It is a Dog Eat Dog world out there, but I guarantee you can make something of your writing outlet, if you try.
"According to the National Women's Business Council, women-owned firms have an economic impact of $3 trillion. Overall, more than 9.1 million women-owned businesses operated in 2014, up from 5.4 million in 1997, according to a report by Womenable and American Express. As many as one in three small business owners in this country are moms, which is pretty jaw-dropping. Mom-owned businesses are, therefore, hugely impactful on the economy, and all signs indicate their impact is only getting bigger; women are now launching businesses at nearly twice the rate of men."
This is National Small Business Week, so what better time to start a business than now.
Connect with Working Mom: Working Mother Site | Working Mother on Facebook | Working Mother on Twitter
Disclaimer:
This product was received from the Company for review purposes only. All thoughts and words in this post is my own and I was not paid to endorse it. I am only voicing my opinion about this product.