When my little one was first born, I was very wary of germs and bacteria. I knew that babies are vulnerable, and I was constantly concerned with all the new items we had. I would sterilize them by boiling them in a pot – making sure to stir constantly. Yup, I could hardly move without falling apart and there I was, sitting over a pot stirring my bottles…
This is where the Baby Brezza One Step Sterilizer Dryer comes in. Baby Brezza products are committed to making the lives of new moms easy, and this item hits the nail on the head. With the push of a button, it kills 99.9% of germs and your bottles are sterile and safe for even the tiniest babies.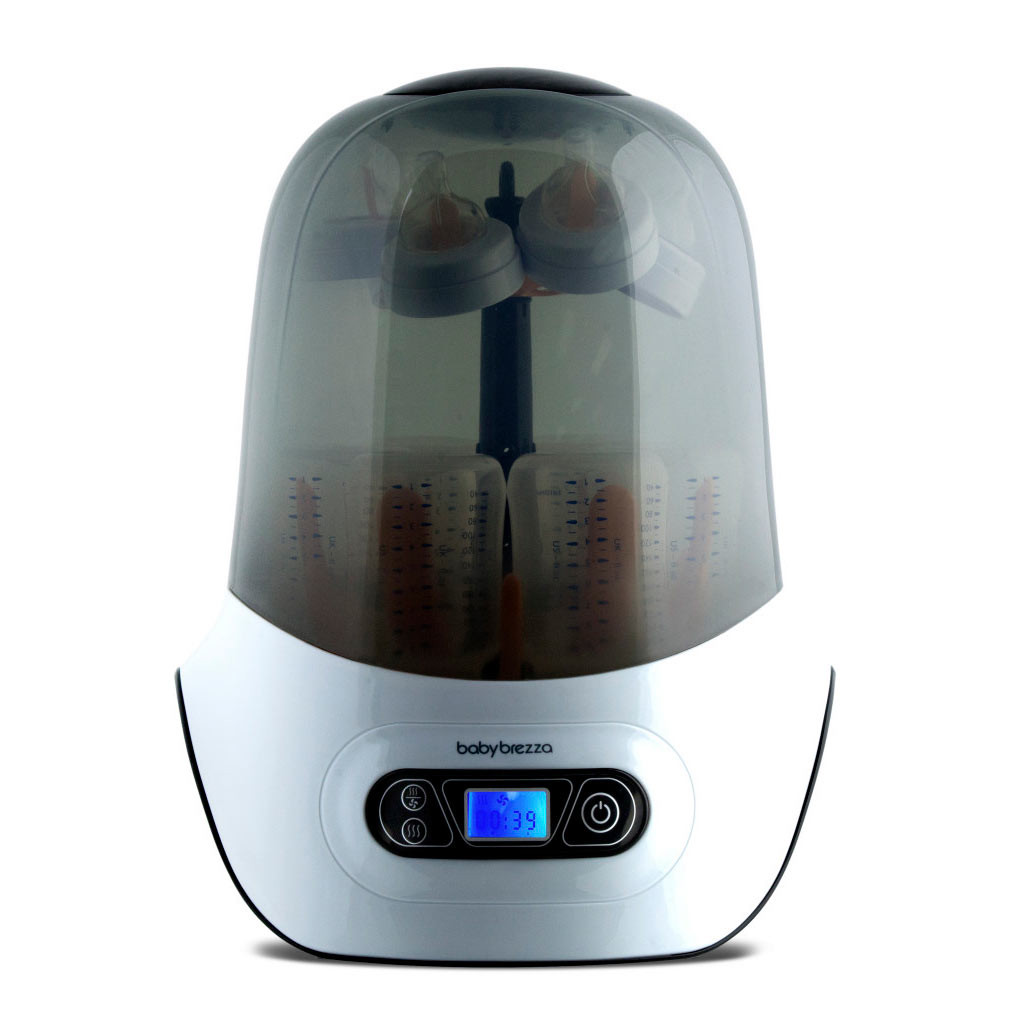 But there's more! This amazing appliance not only steam sterilizes, but it dries as well. You put in your clean bottles, push a button and they come out bone dry. Putting away wet dishes, even if they're just slightly damp, carries the danger for bacteria growth. With a new baby in the house it's easy to neglect drying dishes properly. This can undo your sterilization. The Baby Brezza One Step Sterilizer Dryer dries it as well so your new-mommy brain has one less thing to worry about.
"Sterilize and dry your baby's bottles quickly and easily with the One Step Sterilizer Dryer! This 2-in-1 machine uses natural steam to kill 99.9% of the germs in your baby's bottles, in just 8 minutes. The bottles then remain sterile for up to 24 hours, or until the lid is open. The unique drying feature then completely dries your bottles, with a choice of 30, 45 or 60 minute drying cycle."
You have three operating options: steam sterilize, dry, or sterilize and dry. The sterilizer is a sleek, modern appliance that will look great on your counter top or in your nursery. In case this wasn't convenient enough already, there's a removable insert as well! Once your bottles are dry, you can just remove the stand holding them and put it away as is. The sterilizer rack holds up to six bottles. Since I've only had the privilege to own this once my baby was already finished with bottles I use it for our training cups, and it's amazing!
The Baby Brezza One Step Sterilizer and Dryer is so convenient and easy to use. There is no learning curve and it helps make the transition into motherhood as smooth as possible.
Connect with Baby Brezza: Shop | Facebook | Twitter
Disclaimer:
This product was received from the company for review purposes only. All thoughts and words in this post are my own and I was not paid to endorse it. I am only voicing my opinion about this product.