Your best friend is a busy mom, and every day you are in awe of her ability to juggle dozens of responsibilities with ease. To help show your BFF how amazing she is and how much you appreciate her, consider doing one or more of these seemingly small gestures that will make a huge difference in her day: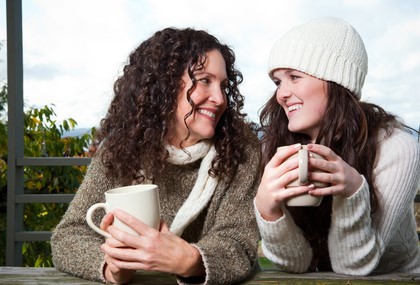 Treat Her to Coffee & Let Her Talk
Moms typically spend their days solving other peoples' problems. Indulge her by giving your mom friend your full attention. Ask her to set aside an hour for coffee and treat her to her favorite vanilla latte, and then let her get everything off her chest. Instead of sharing your funny stories about annoying co-workers and your upcoming vacation, spend the time at the coffee shop letting your friend vent and talk about whatever is on her mind. You know how much better you feel after a good talk; now do the same for your BFF.
Send Her Flowers
Picture this: it's the middle of the afternoon and your BFF is up to her eyeballs with the kids and preparing dinner. Suddenly, the doorbell rings and a cute delivery person is standing there with a gorgeous bouquet of flowers, just for her. There is no better way to brighten someone's day than with a flower delivery. Make sure to include a personalized note that says something like "Because you are an awesome Mom." Your BFF will appreciate this kind gesture more than you will know.
Offer to Help Out of the Blue
A great way to show a mom how much you appreciate her is to offer to help her, just because. Send her a text and say "I would love to come hang out with your kids for an afternoon this week so you can go get a pedicure in peace. Pick a day and I'm there." While she is out getting pampered, surprise her by folding the pile of clean clothes and bake some fresh cookies with the kids.
Tell Her She is Amazing
Moms sometimes wonder if people notice how hard they are working. So tell her, in a text, a card or in person, how amazing you think she is. Let her know how you marvel at how she is able to get lunches packed every morning and the kids out the door on time and then remember to pick everyone up. On those seemingly endless mom days, hearing these words can go a long way to boost her spirits.
Drop off a Decadent Treat
The next time you are at the grocery store, pick up a couple pints of that insanely delicious gelato that you know your BFF loves, and shoot her a text asking if you can drop by for a minute. Don't ask to be invited in — she might not be ready for a pop-in visit — just hand her the bag and say "I was thinking of you while I was at the store and thought you might like this," and then walk away knowing you just made her day.