Interesting Halloween party ideas are getting harder to come by… which is a shame, because everyone loves a great Halloween party! The costumes, the games, and the good friends make for a memorable evening.
But isn't party prep just exhausting?! Moving furniture, putting up all that Halloween decor, and finding the perfect Spotify playlist can take forever. For a three-hour soiree,' you may spend 4-6 hours prepping. And we still haven't talked about the cleanup (ugh…).
Or the cost. Halloween parties are not budget-friendly. Flashy entertainers cost hundreds of dollars, and that's not even accounting for the decorations and snacks! Reusing the same old Halloween props is far from classy… but maybe a good way to encourage your friends to take up a collection for you.
You also need fun new party games. Bobbing for the witch's apple and pinning the tail on the ogre every year gets old. And you may want to avoid swinging for that pinata after a few drinks… unless you're not too attached to great-grandma's priceless vase!
Let's face it, you need something new. Something fun. Something exciting. Something that thrills guests but doesn't break the bank. It's time for a spooktacular Halloween party. Lucky for you, this something exists, and it's easier than you think.
Have you ever thought about throwing an escape room party?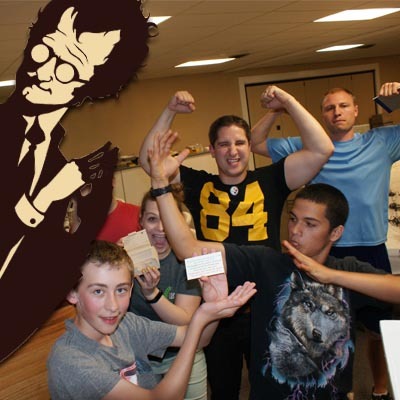 An Escape Room Party? What Would That Even Look Like?
Surely, you're familiar with escape rooms. A gamemaster you've never seen before locks you and your friends into a room for an hour, where you hope to escape from the voodoo queen, mummy, or lawyer before the time runs out. If you want to escape, you'll need to solve the various puzzles scattered around the room.
Solving each puzzle requires immersing yourself in the game. To escape a vampire, you have to think like a vampire (or a vampire's victim). You'll also need to work closely with your team, making it the perfect game for a super-thematic group activity. Sounds like the best Halloween party idea ever, right?!
The problem is, most escape rooms max-out at around 8 people. Plus, they can charge upwards of $30 per player. You do the math….
This is where the handy escape room kit comes in. A printable escape room kit transforms your dull living room into an immersive escape room experience. All you need to do is print out all of the clues and puzzle sheets, scatter them around the room, and let the adventure begin! Each kit even includes bonus posters, photo booth props, and Spotify playlists to really up the atmosphere of your Halloween party.
These printable escape room kits have been fun-tested thousands of times by kids and adults alike. Kids absolutely adore these immersive, interactive games. It's like a videogame, but in real life! The scare factor remains small while the fun factor blows through the roof (all without spilling the urn on the mantle). Plus, nothing brings people together quite like a ticking clock, the threat of impending doom, and the promise of pizza for the victors!
Escape room kits provide the excitement of an escape room in a very budget-friendly manner. Remember your 20 friends (or 16 friends and 4 people you have to invite)? That $800 for a commercial escape room just dropped to $30 or less. That should leave you with a pretty healthy snack budget!
While your friends may have visited escape rooms, no one's ever played one at your house. It's guaranteed to be your best Halloween party idea ever! Read on to see how you can host an escape room party to die for, in just 5 simple steps:
Step 1 – Choose a Thrilling Escape Room Game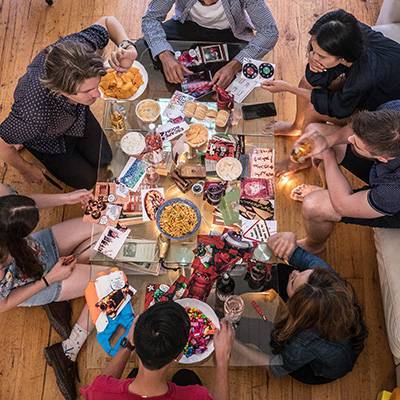 Of course, the first thing you'll need for your escape room party is one of these escape games. There's a bunch of themes to choose from, and all will work for your Halloween party. You can set them up as an outdoor or indoor game. Great themes include:
Escaping from the mummy's tomb

Stopping an evil government from unleashing a their weapon of mass destruction

Keeping the zombies from stealing the last pizza (zombies love pizza more than brains, duh)
Once you choose your game, simply download it. You don't need to go to the store, pay shipping, or deal with messy peanuts in a box. Click buy and click download. Then print the game and prepare to play. It's that simple.
The escape kit comes spoiler-free. Even though you buy the game, print it, and set it up, you will not see the answers to the puzzles. You can play along with your friends. But no cheating! Don't work on the puzzles in advance of the big party!
Step 2 – Invite Your Victims, Um, Friends
Set the chilling atmosphere right from the get-go with a rocking invitation! This will let your guests know to arrive with a sense of humor, ready to play. You could try something like this:
"Dear Victim:
On All Hallow's Eve, October 31, 2021, at 7:00 p.m. sharp, you are cordially invited to be locked in the mummy's tomb, with only sixty minutes to escape. Clues will lead you to safety if your (dim)wits can decipher the solutions. Failure means spending an eternity locked in the tomb (picture an eternity in a six-year-old's room, without the six-year-old).
You only need to bring yourself, your adult beverages, and your spouse or significant other (but not both). We will provide snacks and non-alcoholic refreshments, should you make it out alive…
Sincerely,
The Pharaoh"
When guests arrive make sure they're comfortable, happy, and well-greeted. If this sounds a little daunting, don't worry, here's a momblogsociety article to help you out.
There's no limit on the number of friends you can invite. Printable escape games work best with 4-6 players. If you've got more players than that, the game is on! Just split the party into groups of 4-6, print a copy of the game for each of them, and let them race to see who can escape first.
Once you buy the game, you own it. Forever. So you can reuse it as much as you like. Use the escape game for an adult party this month and a kids' party next month. An escape game makes a great party idea for almost any occasion. But I do recommend against using it for weddings and funerals (unless the groom really needs to escape). Escape games add fire to all other parties!
Step 3 – Set The Atmosphere
Ultimately, this is your party. You're the boss. So escape kits allow you to set up as fancy or as simple a party as you like. After all, you know your guests better than me.
There are three different ways that other adventurers usually set up their party:
The easy way:
First, you can simply print out the puzzle sheets, toss them on a table, and start the game. This may work best for smaller parties and smaller spaces. Even though you haven't transformed your living room into a sand-filled pyramid, your guests will end up immersed in the game just the same (watch how frantic they get as the clock winds down to zero!). Pro tip – cast a countdown timer to your tv to enhance the impact. You can find many online that countdown and alert you as time runs out.
The escape room:
If you're looking for an experience that's a little more immersive, you can decorate the room with posters, props, and a couple of spiderwebs. Then, hide the puzzle sheets around the room (if you hide them under the sofa cushions, make sure to check for spare change and old french fries first). This gives your setup the feel of a commercial escape room. Players will dart around the room, trying to find the next clue.
Make sure you set ground rules first. Tell your guests where the clues are not hidden. This keeps furniture upright and pictures on the wall. Once your friends get into the game, they tend to forget that this is still where you live!
The grand adventure!
Finally, you can go all out. Supplement the puzzle sheets with physical props and locks for your players to interact with. This is where you unleash your inner creative genius!
It's time to crack out the DIY Halloween party decorations! Darken the windows. Put cobwebs on the wall and ceiling. Bring in boxes with locks so that players have to solve a clue to obtain the combination. Do everything you can to make this feel like a real tomb. You can even have costumes for the players to wear while playing the game.
No matter which method you choose, your escape room party will be the highlight of the Halloween Party circuit (you may even get a writeup in Better Pyramids and Deserts)!
Step 4 – Have A Blast! Party On!
Divide up the guests into teams. If you have heathens, I mean friends, who have never experienced an escape room, give them a rundown on how to play. Then start the mood music (some games come with great Spotify playlists), start the clock, and start the fun!
The whole kit sets up spoiler-free. That means you don't need a gamemaster at all! (Yep, you can play too!) Instead, each game has a webpage with all of the hints and solutions you need, just in case you get stuck. But of course…. I'm sure a clever adventurer like you won't need hints…
If the teams compete against each other, assign time penalties for hints requested and higher penalties if the team requests a solution. You can also make a team member do something slightly gross if they ask for a hint, like sticking their hand in mystery goo or bobbing for apples in a bowl filled with plastic spiders. Have fun!
The race is on! Which team can finish the fastest with the fewest hints? Which will have trouble finishing at all? Did you make sure that husbands and wives were on different teams (or, if you're a marriage counselor, did you make sure that they were on the same team)?
This may be the fastest hour of your life! Enjoy!
Step 5 – Celebrate, Brag About Your Accomplishments, And Enjoy The Glory
You escaped! Even if you didn't finish first, you avoided a fate worse than death (or a tax audit). Grab a drink and brag about your accomplishments!
Make sure to leave plenty of time afterwards for people to wind down from the adrenaline rush. The room will be buzzing, conversation flowing naturally, and laughs echoing creepily down the hallway. Now is the time to enjoy snacks, glory-bragging, and good company. Everyone will be smiling the rest of the night!
Just be prepared for people to ask about next year's Halloween escape room party on their way out the door. It's not too early to start thinking about Thanksgiving…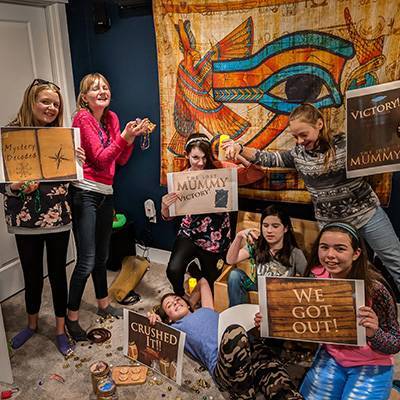 And Party Host Of The Year Is… YOU!
This will be the event that everyone talks about for months to come. No other party asks you to escape a zombie apocalypse, or solve a murder mystery!
So make sure to grab yourself an escape room kit, and get your Halloween party sorted. Or, why not make your own? It's a lot of work, but the payout is AMAZING!
Whatever you do, I hope your Halloween is spine-tinglingly good!