We are excited to introduce the XOComfort cooling pillow! These aren't your run-of-the-mill pillows that give empty promises. These XOComfort pillows are the best you will find…anywhere. These cooling pillows were created by XOcomfort Bedding Technologies, a company dedicated to building better bedding products with materials science. Better yet they are 20% off for a limited time!
XOcomfort Cooling Pillow – Gentle, Effective Cooling
XOcomfort has created the perfect bedding material with their cooling foam. You see, foam is a great material for pillows and mattresses except for one thing: It's hot! It traps heat next to your body and doesn't let it go anywhere. The engineers at XOcomfort solved this by building carbon-based pathways in the foam, giving the heat somewhere to go! The pillow doesn't feel cold to the touch, but throughout the night it gently pulls heat away from the body, helping you stay at the right temperature. Not too hot, and not too cold.
The XOcomfort pillow is filled with shredded memory foam and a premium fiber fill that provides a soft, supportive (and adjustable!) sleeping surface. The cooling technology is built right into the foam! It outperforms your tradition fluff stuffing, gel-filled, or even bamboo filled pillows that you can find on the market. And don't be fooled by the cool-to-the-touch pillows. Those charge a lot more money for a pillow that feels cool for a few minutes, but they are still stuffed with plain-old filling, meaning the heat has nowhere to go. Your face feels cold for a minute, and then just like any other pillow the heat gets stuck. The XOcomfort team stands behind their product. So much that they guarantee it, or you get your money back. Period. That's their generous return policy. XOcomfort Bedding Technologies has built their technology right into the core of each pillow.
XOcomfort™ Cooling Technology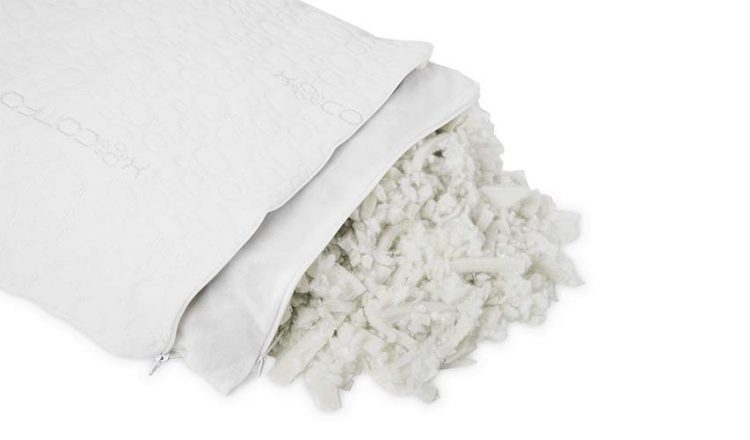 You see this image above? It's a microscopic view of XOcomfort's proprietary foam that is used in the pillow. What you are seeing is the pathways that carry the heat through the foam. This helps to keep your head at the right temperature by drawing away the heat generated by your body at night while sleeping. Again, not too hot, and not too cold. Just right, all night.
With all of the technology that goes into the XOcomfort pillow, I can't wait for their future line of products to hit the market! Hello, bed! I can't wait.
Note: We have created a custom landing page for all of the Mom Blog traffic which offers each person a 20% discount if they fill out our form. The link to the custom page is http://xocomfort.com/mom-blog-society/