A recent survey revealed that 24% of the UK's population owns a dog – that's a total of a staggering 8.9 million furry friends across the nation. It's no surprise then that more and more pubs and restaurants are marketing themselves as 'dog-friendly' in order to attract these pet owners – and, if your dog is going out on the town, he or she will, of course, want to be dressed for the occasion.
Dressed like a doggy winner
In the last few years, we've seen a surge in the number of stores and websites selling clothing for dogs – from hoodies to fancy dress costumes, you can even take it to the next level and co-ordinate your dog's outfit with your own.
http://www.korrectkritters.com/best-10-minion-costumes-for-dogs
Although this may be going a little far for many dog owners, it's great to be able to get hold of dog coats and jackets during cold weather – particularly for short haired dogs who don't have as much natural protection against the cold as others. Many breeds of dog, such as greyhounds, do tend to feel the cold and can be made to feel a lot more comfortable on a winter walk with a well made coat. Unfortunately, unlike us humans, dogs come in a huge range of shapes and sizes – from the teeny tiny handbag sized Miniature Pinscher to the Great Dane which can stand up to 30 inches in height. With such a wide range of shapes and sizes, most stores and boutiques are unable to cater to more than a handful of breeds, meaning that many people struggle to find fashion for their furry friend. For this reason, many dog owners are deciding to get crafty and make their own dog clothing – and it's a lot easier and more affordable than you may think.
A stitch in time saves….cash
For those who have never even owned a sewing machine, turning designer to the dogs may seem a little daunting but, luckily, help is at hand. Popular sites like YouTube and Pinterest offer lots of tutorials to help you on your way. Most of these tutorials offer step by step guides for the complete beginner – and some you can even make by hand without the aid of a sewing machine.
When making your own hound haute couture, you can, if necessary use old clothing of your own or remnants found around the house but, most dog-owners prefer to source printed fabrics in order to create unique canine couture. When choosing a fabric, many find that fabrics suited to toymaking are ideal as they tend to be a little more robust than those designed for human wear. Making your dog's outfit from scratch gives you the flexibility of choosing a fabric which suits your dog's colouring and personality, as well as the all important sizing. Before beginning, take a look online for clothing patterns compatible with your dog's breed and age then, you're ready to choose your pattern. With such a huge range of fabrics available, you can opt for a cool pin-striped pattern, funky flowers or, even a cute doggy pattern to make sure that your best friend is dressed to impress. Before buying your fabric, always check the washing instructions – particularly if your dog is a lover of mud, grass and dirt!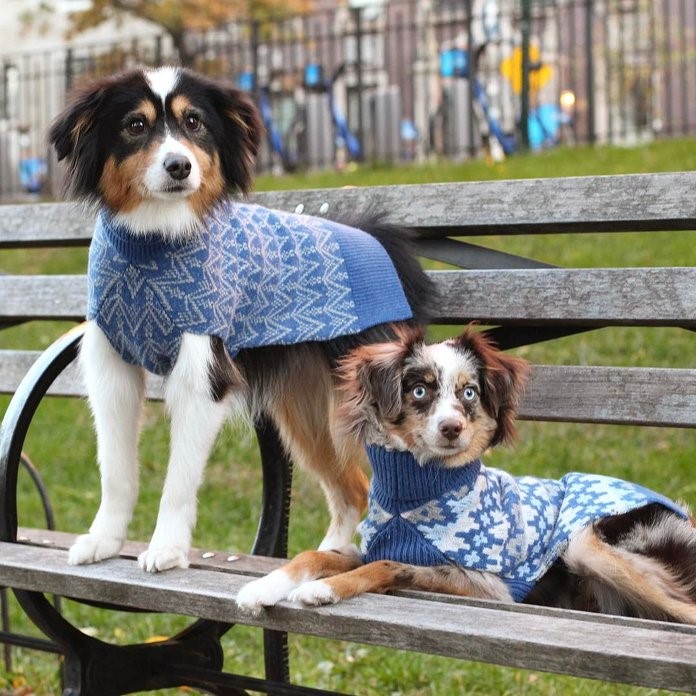 https://www.instyle.com/lifestyle/stylish-dog-clothing-brands
Getting cosy
Although making a warm winter coat for your dog is a little trickier than making standard clothing, it can be done with a little practice and a good tutorial. Although this may work out a little more expensive, due to the fact that you'll need to get your hands on some weatherproof fabric, it'll still cost less than the average dog boutique – you will need a sewing machine for this one but, as a bonus, yours will be unique.
Once you've got the hang of making clothes for your dog, you can try your hand at accessories – bandannas, harnesses and bow ties are all really quick and simple to make and make for great 'Grammable Walkies. Before you know it, you'll be ready to move on to 'his and fur's' ensembles worthy of a celebrity photoshoot.
Making your own dog clothes can be fun as well as saving you money – just make sure that you source good quality printed fabric for your design and double check those measurements to ensure that your dog is comfortable. Although your dog no doubt looks super-cute in his or her new outfits, always avoid these during warm weather – even for dogs with short hair. You can quickly and easily check your dog's temperature by feeling the skin behind the ears – if this is hot to the touch, he or she is too warm and should not be wearing clothing.