My children and I have been dealing with allergies for years and boy is it hard on all of us at times. My first thoughts were why we keep getting all these colds. It was like the moment I saw Jay and Jordan sitting back, I knew something wasn't right because it was a constant pattern I noticed a lot. I also would notice when they played outdoors their eyes and nose would always run no matter what the season. So I took them to be tested and sure enough they both have bad allergy problems.
Are you aware that there are many things that can trigger your allergies? Like bad air s in your home. You'll be surprise how indoor air can affect your body because inside your home many toxins both silent and visible lurks throughout the air. Toxins can trigger allergies and other medical conditions. If you notice you're not sleeping well in your home then most likely you too have some type of bad air circulating in your home. Bad air can and will bring on headaches, sleepless nights, trigger asthma attacks and many other medical issues, oh let's not forget pollen.
That's why it is so important to have a good, indoor air toxin senor like uHoo, this unit is helping families nationwide ride all those nasty toxins in our home and work place.
When you think about it, we spend most of our times indoors so why not be comfortable…right! I can hear you saying what a sleek device but how will it help me and my family? What is it? Well uHoo is an air quality detection system, (not an air purifier) it can detect dust, temperature, air pressure, carbon monoxide and many other toxins in the air. Once the senor detects something it will relay all this important information to the uHoo app on your smartphone. It's a great way to know what your children and you are breathing in that can become harmful to everyone
These real alerts from the uHoo sensor will allow us all to view and track the changes in our air quality. Many people may not know but your air quality is very important to your body and overall health. Actually it's vital because poor quality air can bring on many medical issues that won't allow your body to function properly, inadequate sleep, sluggish feeling day and night and of course trigger points with allergies.
So you see the uHoo is a must have in your home or office and it's very easy to set up.
Simply plug uHoo in to a power outlet and connect it to the WiFi network – uHoo does the rest. The quality of air is detected instantly and shows up on your smartphone via a free app (support for both iOS and Android). All of this data is securely and safely stored in the cloud for easy access from anywhere in the world and can be shared with loved ones and/or health practitioners. The ability to share data and devices means that you can stay on top of other family member's indoor air quality, such as an aging parent or grandparent, or your child when you are away.
With the uHoo your worries about the quality of air in your home will be no more because this unit will keep you updated on any problems. The app will display what toxins affect your air quality via high and low so you can make adjustments to correct the poor air circulation.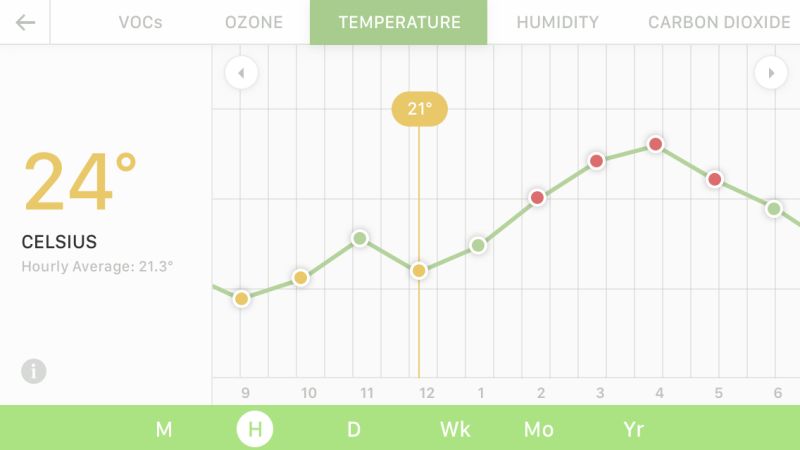 Are you aware that According to the American Lung Association "it's hard to know when air in your home needs cleaning; the indoor air you breathe can be hazardous to your health without any telltale signs." We can't manage what we don't know or can't measure they state! Not only is the American Lung Association concern but many parents are too because we have half of our children at risk daily because of poor indoor air quality. Look at the schools, children spend most of their time in school and many schools are dealing with poor air quality now so not only would this be great for home and offices but for schools too.
uHoo comes in two versions: Classic and Premium, the main difference being the number of dedicated sensors that the device will detect. The mobile app allows you to keep an ongoing history of the indoor air quality for every room you set up and to share that history with others. uHoo also offers real-time alerts so you can know when the air quality changes and offers suggestions on what you can do to improve it. The device comes with a power adapter, and a micro-USB cable.
I don't know about you but I'm all for having one of these units in my home. My kids suffer a lot with allergies and if the uHoo can help solve my poor air quality and help me monitor it daily count me in. It's always nice to see a new innovative product come on the market that's useful, smart and beneficial!
Now listen uHoo can be pre-order at only $99 for a limited time here. You can also sign up for uHoo's newsletter to be notified of updates at here.
Hold on, uHoo is also hosting a giveaway where you can win a US$ 50 Amazon Gift Card. Enter below:

uHoo $50 Amazon Gift Card Giveaway


Don't forget to connect via Website|Facebook | Twitter|to get tips on staying healthy and avoiding situations that might make you sick.