With Mothers Day Just around the corner, finding the perfect gift for mom isn't always easy. But Bradford Exchange is making it much easier to find that perfet Mothers Day Gift. With Birthstone Rings For Mom. Their Family Is A Circle Of Love Personalized Ring says it all. It's a beautiful way to express your feelings in a personal and elegant way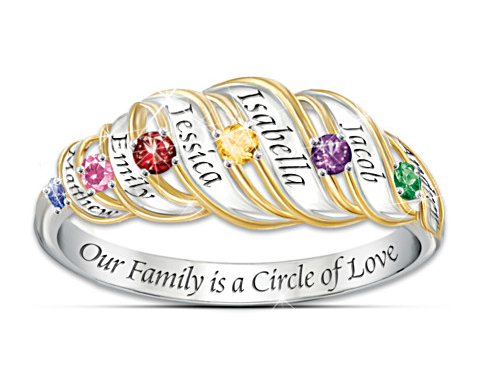 How gorgeous is this family birth ring? Made with Solid sterling silver and 24K-gold plating. Showcases up to 6 engraved names with 6 cubic zirconia birthstones; engraved sentiment inside. Gift box.
I can't think of a more sentimental gift for mom than a birth ring on her children. This exquisite birthstone family ring is personalized with both engraved names and CZ birthstones. You can add up to six-names and six-birthstones. "The Bradford Exchange also presents a touching family sentiment engraved inside the personalized family ring, to make its message of love all the more complete."
Beautifully crafted in solid sterling silver and 24K-gold plating, this exclusive custom-made family ring allows you to customize up to 6 different ring design, each engraved with a family member's name and the shimmering cubic zirconia birthstone of your choice. The inside of this elegant birthstone family ring is engraved with the sentiment "Our Family is a Circle of Love,"
The Bradford Exchange has a beautiful selection of Mothers Day Rings. Give Mom the best this year. Something she will cherish a lifetime.
Connect with the Bradford Exchange: Shop | Facebook | Twitter