As a dog mom, my dogs mean everything to me. I have my girls on set schedules for feeding, play time, nap time and just about everything in their daily lives revolves around a schedule. Their happiness and health are extremely important to me. Both my girls are German Shepherds as you can see by the images below. Makia, (below) is nine months. She is the love of my life.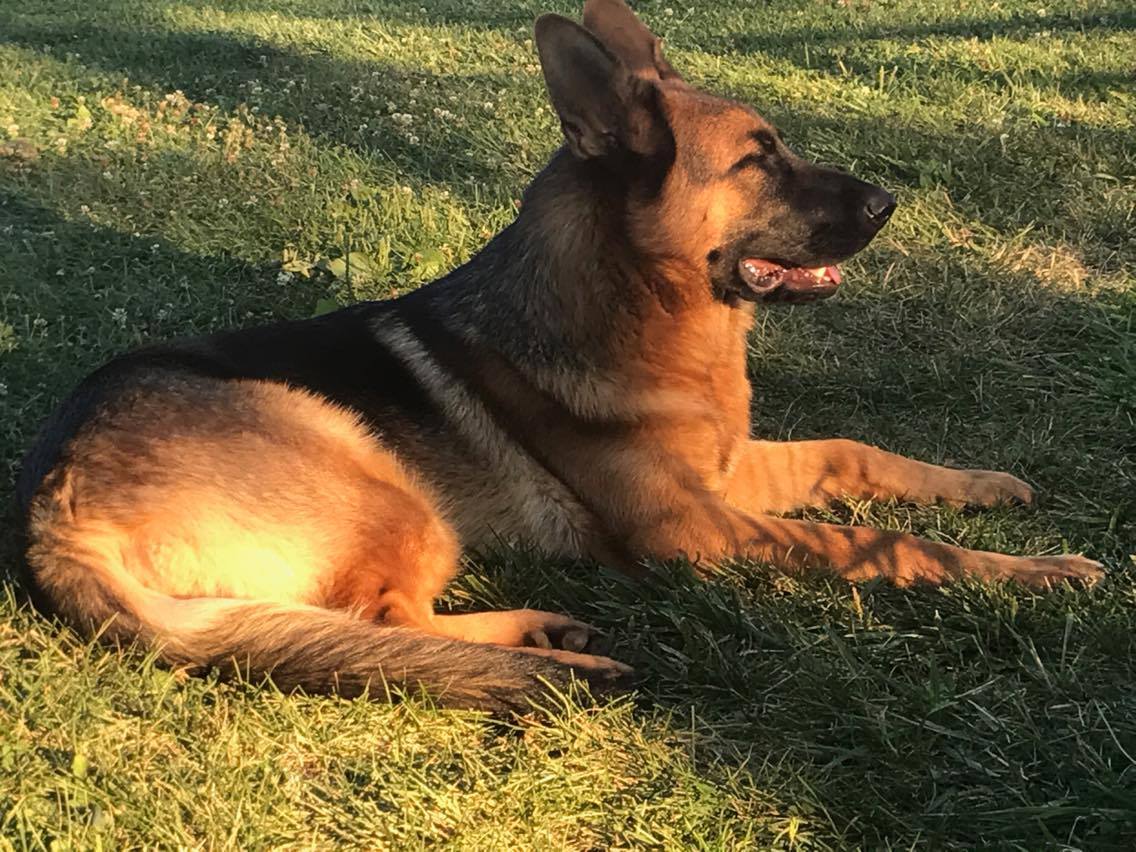 Makia nine-months
Shiloh is nine weeks old and just the sweetest baby ever! But, while German Shepherds are notorious for having joint issues, I'm positive mine will never have joint issues for a few different reasons. First, their breeding background, Makia and Shiloh have an amazing pedigree. As far back as you could look into the generations of parents, grandparents and generation after generation of great grandparents, all of their all of their ancestors have been tested for hip and elbow at the age of two and even after, all coming back with nothing but positive results.
Shiloh nine-weeks
In addition, I had genetic testing done on both of my girls and they are not a carrier of any of the normal disease German Shepherds get, nor do they have any of the typical bad genes known to German Shepherd or other breeds.
However, we all know that wear and tear along with age can still cause joint problems and pain. And while my girls have amazing backgrounds, they are not except from having old-age joint issues. Nor are they except from injury that can later cause joint issues. And because of this, I make sure I give my girls supplements to aid them in having not only amazing joints, but amazing immune systems as well.
Both my girls take NuVet supplements, and I don't have to force feed them to either of them. I think they assume they are treats and thus eat them as soon as I give the supplements to them. And then, they look to see if I have more. I guess that means they taste good, cause my girls are picky.
NuVet Plus® K-9 Wafers
The wafers are used to support your dog's immune system. They are made from natural, human grade ingredients and are formulated to fight free radicals. They also have some unique ingredients such as cat's claw, evening primrose oil, papain, and pine bark. Some of the vitamins included are Vitamin A, E, and C as well as minerals such as phosphorus, potassium, zinc, and calcium just to name a few.
NuVet Plus® is the result of 8 years of research, it is formulated with the goal of creating a nutrient-rich formula that would be more than mere vitamin replenishment. Instead, the supplement provides full-spectrum nutritional support that focuses on boosting your pet's immune system and overall health.
NuVet Plus® wafers come in a variety of sizes 90, 180 and 360 wafers. You can choose a one-time shipment or set up an auto-ship so you are never without. When you choose to have your NuVet Plus K-9 Wafers auto-shipped it will save you money also.
NuVet Plus® K-9 Powder
For the picky pet NuVet also has their immune system in a powder formula. This way you can put it in their food. It includes all of the advantages of the NuVet Plus Wafers just in a powder formula. Double the chicken liver for flavor.
As seen below the advantages of NuVet Plus K-9 Powder is it helps with itching and scratching, helps give your dog a healthy coat. By strengthening their immune system you will see it helps with so many things.
Joint Health
NuJoint Plus® K-9 Wafers
Another important part of our pet's health is their joint health. As dogs get older some tend to have hip issues as well as troubling issues with their other joints. With NuJoint Plus K-9 Wafers you can feel good knowing that your pet is getting a supplement that is veterinarian recommended and good for them. These also have natural, human grade ingredients so you can feel good about what you are giving your pet.
The ingredients include glucosamine sulfate, chondroitin sulfate, MSM (or Methylsulfonylmethane), Vitamin C and is flavored with real chicken liver. They come in bottles of 180, 360 or 720 wafers. You can do a one-time shipment or you can also do the auto ship like the NuVet Plus wafers. Again there is a savings when you sign up for auto-ship.
I am sure you will agree when it comes to our pets we want to make sure they are healthy and happy. NuVet also has supplements for cats too which you can see here.
What product on NuVets interests you the most?
Follow NuVet on their Social Media and visit their website below:
Facebook | Twitter |g+ | Pinterest | YouTube | Website