What happens when a bag addict becomes a mom? She becomes a diaper bag addict! Hi, my name is Menucha and I'm a diaper bag addict.
The truth is, I like to have a classy bag – one that looks like a "real" handbag. I love Storksak's classy collection, and I especially love the new Noa bag. It is the kind of handbag I would have bought pre-baby, except with accomodations for a mom. It's organized like a diaper bag, offers great organization, and at the same time, doesn't scream out "diaper bag" with its style.
"A Place for Everything, and Everything in its Place' – that is Storksak's formula for creating a baby changing bag which does the job wonderfully and looks beautiful too.

Award winning Storksak was founded in 2003 by Melanie Marshall and Suzi Bergman, with the view to create a line of luxury baby changing bags which didn't compromise style for function. "
This bag has all the features I need in a diaper bag, with a minimalist appearance. The main bag features a large pocket, with a smaller zippered pocket on the inside, and another outside pocket for easy access. It also has the most cleverly hidden insulated bottle pocket that opens from the outside.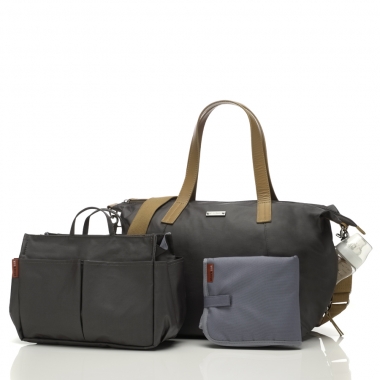 In addition, it comes with a "mini organizer" that fits right in. I LOVE this feature as it offers me versatility. And I LOVE versatility! When I visit my parents (I am going now for a full week) we usually need to drag the changing supplies between floors. Now we will be able to leave the mini organizer in one place, and the large bag in another. When we go out, we can just put the organizer back into the main bag. Of course it also features a changing pad that Velcros shut to keep things in place.
The polished leather trimming gives the practical coated canvas bag a more sophisticated edge. The long handle is easily removable, and easily length-adjustable. It also very cleverly conceals stroller straps that are built right in!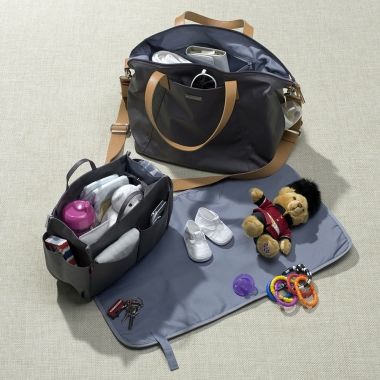 Features of the Storksak Noa:
Comes in five beautiful shades: grey, navy, powder pink, powder blue, and yellow
Dimensions: 11.4in x 19.3in x 7.9in
Body is a durable coated canvas fabric
Hardware is sturdy and a stylish silver
Long strap is adjustable, detachable
Long strap has built in stroller straps
Handles are made of leather
Includes a changing mat that Velcros shut
Comes with a mini organizer that has a large, zippered main pocket and six external pockets
Entire bag wipes clean easily
The Noa bag by Storksak is an unusual mix of super-stylish and highly functional. It is very cleverly designed and I tote it with pride!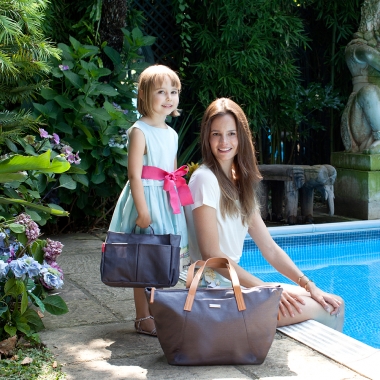 Connect with Storksak: