Stimulate your mind with Recent Toys
How many parents out there are looking for a better way to have their children entertained? I know I am guilty of turning the TV on or even allowing them to play of their Ipad or Kindle just so they wouldn't be bored. I have recently had the pleasure of being introduced to a new kind of game for the kids and to be honest, this is so much fun for adults as well. I know as we get older we need to exercise our minds as well to stay sharp and focused. Your brain is a muscle and needs exercise to stay in shape. Challenging your brain by engaging in thought provoking activities like brainteasers keeps it strong and promotes overall mental health. For the kids, this is a great way for them to use logic as well as have a blast.
Brainstring Advanced — This was my kids favorite out of all of the toys. Although my daughter is 6, she did very well once I showed her how to do it. This is one of those things where they can play it anywhere and I plan of taking it with us when we go on road trips this summer. This knotty little puzzle is all about thinking inside the box. The brainchild of Dutch inventor Guido Lap, it uses simple elements to stretch your spatial reasoning to new limits. Elastic bands connect colored buttons on opposite sides of a clear, plastic case. Your challenge is to group the buttons by color, sliding them along the slots cut in the clear plastic, without getting yourself (and the cords inside) all tied up in knots. Available at Target, Barnes & Noble and Amazon. $19.99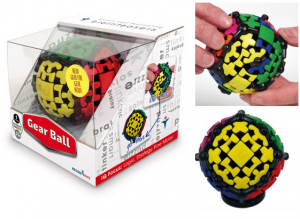 Gear Ball — This game was a bit harder for my kids. To be honest it was kinda hard for me. I have never been good with the old fashioned Rubik's cubes so this one will take some time to solve. Challenge your puzzling skills with the brain meltingly-difficult Gear Ball. Slightly larger than a baseball, Gear Ball is like a Rubik's cube morphed into a sphere. Your goal is to twist and turn Gear Ball's surface until you form six solid faces of color. Completing the solution, however, requires more than just positioning nine pieces of matching color per side. You must also correctly align and orient the bordered gear pieces. Gear Ball's high-quality construction ensures a velvety smooth spinning action for high-speed solving. Available at Target, Barnes & Noble and Amazon. $24.99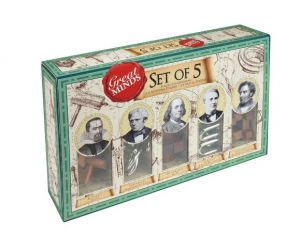 Great Minds Set of Five — Unfortunately, my kids are not at the age where they will understand what to do BUT I cannot wait until they do because this game is amazing and what a great idea to think up this game. In need of some cerebral stimulation? Designed to engage the psyche, the Great Minds series brings together intellectually demanding puzzles with some of the greatest thinkers from throughout history. Each puzzle reflects an aspect of the "Great Mind" who inspired it, as well as a brief history of their life and achievements, combining learning and play. This set of five highlights some of mankind's greatest achievements: Thomas Edison's Light Filament, Johannes Kepler's Star, Michael Faraday's Magnetic Field, Robert Stephenson's Railway Sleepers, and Benjamin Franklin's Kite. Perfect for any science whizz or history maven, keep these alluring puzzles out in the open—they'll attract and keep the attention of your friends! $19.99
Disclaimer:
This product was received from the Company for review purposes only. All thoughts and words in this post is my own and I was not paid to endorse it. I am only voicing my opinion about this product.