SpiritHoods

I discovered SpiritHoods one night while watching one of my favorite Friday night television shows, Shark Tank a few weeks ago.
We recently had the opportunity to work with SpiritHoods and review one of their amazing hoods. We were sent a Husky SpiritHood to review free of charge. I have seen similar "hoods" in our local retail stores. I wanted to buy one but you can tell right away that they were cheaply made and not worth the large price tag. That is not the case with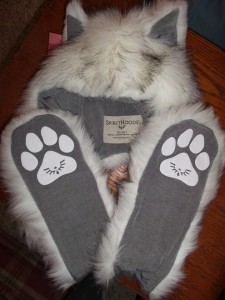 SpiritHoods. You can tell right away that SpiritHoods are extremely high quality and made to last. One of my favorite features of SpiritHoods is the secret zip pocket for cash, credit cards, phone or whatever you please. I love that I can keep my phone and credit cards safe without taking my purse along with me.
All Authentic Spirithoods are made right here in the USA! Los Angeles, California to be exact. You can tell if you have purchases an authentic SpiritHood because of the SpiritHoods logo in the paw and custom logo button to keep your hood on. They are made with the highest quality faux fur. No real fur here. I love that no animals are harmed during the creation of any SpiritHood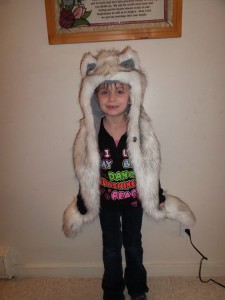 products. However you can not tell by looking at them. They are beautiful and look so real. SpiritHood received the Peta Libby Award for Best Animal-friendly Clothing Company in 2011 and 2012.
With every SpiritHood purchase, SpiritHoods donates 10% of net profits to the conservation of Endangered Animals. You can purchase SpiritHoods in woman's, men's and children's sizes. They have a huge assortment of different animals to choose from.
If you would like more information or to purchase Husky SpiritHood, please visit the SpiritHood Website. Be sure to stay up to date on all of the latest news and products from SpiritHood by following their social media pages on Facebook, YouTube, Pinterest, Instagram and Twitter. While you are there be sure to follow Mom Blog Society on Facebook and Twitter.
Disclaimer: Mom Blog Society received product free of charge to write our review. All opinions stated in our review are our own truthfully opinion and were not influenced by the sponsor or from getting the review product free of charge. We were in no way compensated for our review or opinion.