Simplify Your Summer with Dawn Destinations #MyDawnSummer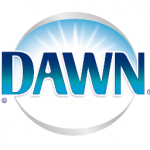 Dawn Destinations delivers the trusted grease-cleaning cleaning results you expect from Dawn, with exotically inspired scents that delight your senses. Breathe deep. Seek out simple, everyday Zen moments to stay balanced and centered, such as escaping at the sink with the exotic scents of Dawn Destinations. I was extremely lucky to have the opportunity to work with Dawn and review one of their new exotic scents. Unfortunately, I am the only one in the house that does the dishes. The kids are too young to do them and my husband works late, so I usually have them done before he gets home. I am not going to lie, washing dishes is my least favorite chore when it comes to cleaning the house.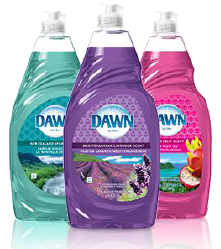 My family has been a fan of Dawn dish soaps ever since I was a little girl. It was the only kind of soap my Gram, Mom and Aunts would purchase. When I grew up and started out on my own, I followed in their footsteps and would always buy Dawn. There is a reason why I love dawn so much, because it works on so many different items and is perfect on cutting grease on stubborn dishes! I was extremely excited when I found out that I would have the opportunity to try Dawn's new Product line, Dawn Destinations. Dawn Destinations combines the grease fighting power of Dawn dish soap with the exotically inspired scents of the Mediterranean, New Zealand and Thailand. Dawn Destinations is available for purchase in three different scents, Mediterranean Lavender, New Zealand Springs and Thai Dragon Fruit scents. We received our bottle of Dawn Destinations in the New Zealand Springs scent and it was amazing! I love that Dawn offers their customers new products and scents without changing the amazing quality of their products. Dawn Destinations makes your ordinary dishwashing experience extraordinary.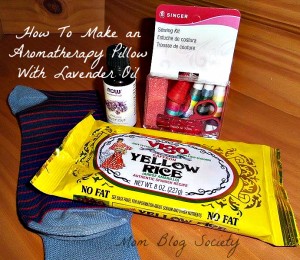 Aromatherapy Pillow With Lavender Oil
What You Will Need:
A Tube Sock
A Mini Sewing Kit
8 to 10 Ounces of Dry Rice
15 to 20 Drops of Lavender Oil
Directions:
Fill a tube sock with dry rice. I found the easiest way to do this will little mess was by putting the sock in a tall glass and folding the sides of the sock around the glass. Fill the sock until it is about two-thirds to three-quarters full. Add 15 – 20 drops of lavender oil. Hold the open side of the sock closed and shake the rice around the sock to coat the rice with the lavender oil. Carefully, sew the open end of the sock completely shut. Make sure there aren't any little holes for the rice to escape and make a mess of your house. I think cleaning up rice for months is just like pine needles after Christmas. You are cleaning it up until the 4th of July. Now you are all set! Microwave and apply as needed to help relieve neck and shoulder tension. Please always be sure to microwave your neck/shoulder pillow for 15 seconds at a time to ensure it is not to hot.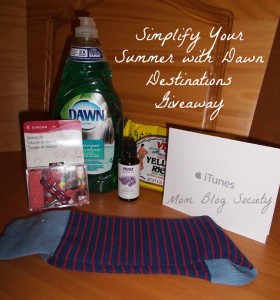 Now for an amazing giveaway! Are you ready for your chance to win your very own Simplify Your Summer With Dawn Destinations Prize Package? One very lucky reader is going to get the exact same kit that we were sent to review including all of the following:
A sock
Aromatherapy neck and shoulder pillow recipe/how-to
A Bottle of Dawn Destination Lavender oil
Rice
$25 iTunes gift card (for spa music)
The giveaway will be open to US Residents 18 years of age and older starting on June 17, 2014 and ending on July 8, 2014. Make sure that you come back every day and earn your daily entries!
Good Luck!
a Rafflecopter giveaway

If you would like more information about Dawn Destinations, please visit the Dawn Website. Be sure to stay up to date on all of the latest news and products from Dawn by following their social media pages on Facebook and Twitter. While you are there, be sure to follow Mom Blog Society on Facebook.
"This review was made possible by Double Duty Divas and Dawn. I was provided the featured product free of charge to facilitate my review, but all opinions are 100% mine."