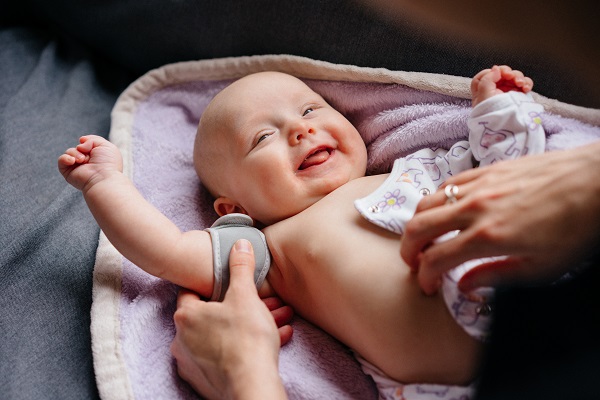 WHAT IS BABY CHECK? Baby Check is a wearable temperature and position-monitoring band that connects to your iOS or Android device through Bluetooth technology. College Station, TX startup company DK Tek Innovations created this much-needed piece of technology for parents everywhere. A family company, with the CEO being grandpa to 9, has had a bit of experience with sick little ones. Baby Check was created to ease the pain and frustration of trying to take temperature on a baby, and the worry that comes with fever spikes and lack of sleep during those long nights for parents and care-givers everywhere. HOW DOES IT WORK? Baby Check is a huge step in infant and childcare, all from the convenience of your phone. The medical grade, hypoallergenic band simply fits around your child's arm making extend wear easy and comfortable. The Baby Check app gives minute by minute updates on your child's temperature, and body position throughout their sleep or play; recording it graphically to your phone. The app builds a history of all recordings, making it easy to bring to doctor appointments to legitimize a parent's concern, and help your doctor make a better diagnosis and understanding of your child's overall health. Within the app is a temperature alarm that will go off and notify you if fever spikes; making a hands free, and less worrisome night for everyone. Imagine not having to get up every hour or even every few hours to check on your sick child, and take their temperature. This hands-free device gives back a little sanity during those sick days. "Making long nights shorter, and sick days better all from the convenience of your phone."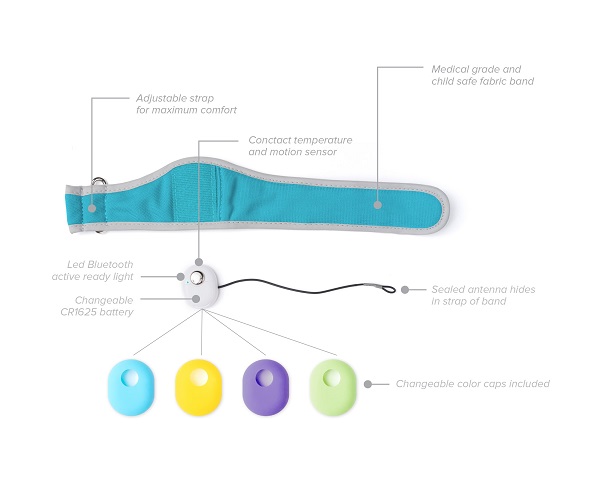 KEY FEATURES:
Wearable device with hospital grade fabric band (hypoallergenic)
Fahrenheit / Celsius settings
Temperature notification setting
Records movement to track motion and resting periods
App "note feature" allows for medicine feedings to be recorded
Customize each Baby Check device with your own name & photo- one app can be used for several children
500 usage hour (approx. 1 year) on changeable battery (CR 1625)
Automatic power off when disconnected from the app
Bluetooth 4.0 technology – band syncs to device, 35' range
Hands free Monitoring = SANITY!!!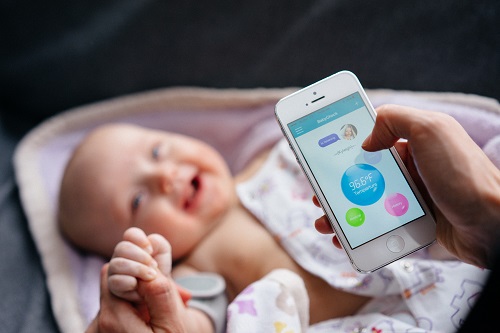 ARE YOU READY TO TRY BABY CHECK? Baby Check is currently available for purchase at a fraction of the retail price on Kickstarter.com. Early Bird special is giving the first 500 people a band for only $40!! If you have a larger family multi-packs are also available.
Back this Project: Baby Check