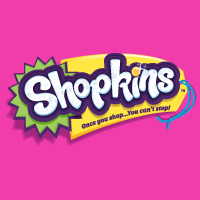 Every year there is that ONE toy that my daughter wants, her IT item if you will. Normally it is very expensive and one of the "Must Have Toys" of the season which means I have to track across the state to find it. Then, inevitably, I have to get in a fight with a little gray haired old lady to get the very last one. We have all been there or … at least I like to think that we all have. You have been close to breaking the law or going to jail over a Christmas present, right? Okay, cool! Just making sure! Anyway, this year, I asked my little one what the number one thing that she wanted for Christmas was. In a very loud and excited voice she yelled, "SHOPKINS!!" My response, "Shop what? Shop who?" It was then that my five-year-old had to sit me down and explain to me exactly what Shopkins were and she even told me what stores carry them. Talk about being schooled!
Low and behold, not only did I find out what Shopkins were, I also learned about the Shopkins Small Mart, Shopkins Spin Mix Bakery Stand, and Common, Rare, Ultra Rare, Special Edition. Yeah, it is a whole new language and I am afraid I can't decipher the code in this one post. Do some research, the internet a beautiful thing! It was thanks to the Shopkins website that I learned about Shopkins Blind Baskets, check the internet for details, and I have to admit, even I kind of found them cute! So, I head out to the store, I am standing in the aisle looking at all of this cuteness and I am still trying to figure out what the dickens Shopkins are! I decided I would learn more from my daughter and just to go with my gut … buy, buy, buy! Hey, they are a lot cheaper than the OMG, I HAVE TO HAVE IT gift from last year … so I was totally game!
Let's just say, her face on Christmas morning … PRICELESS! I think my little one spent at least an hour showing me everything, explaining Shopkins to me, and we even played with the little characters and gave them voice. I know consider myself a Shopkins Intermediate. I am not an expert like my little one but I am learning! Here is what I can tell you!!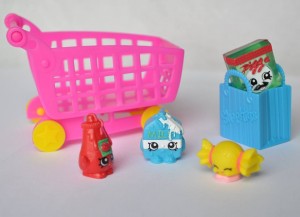 First, these little guys are super cute! Shopkins are characters of things that we shop for. Makes sense, right? Products from the dairy, health and beauty, bakery, etc… the list goes on and on. From shoes to food, they have you covered! They have little faces which automatically give them personality and they are so tiny and adorable. EPP!! Shopkins are sold in sets that allow you to see which characters you will be adding to your collection and they are also sold in Blind Baskets where it is the luck of the draw.
If I had to pick my absolute favorite things about Shopkins, it would be that they allow my daughter to be creative and use her imagination while playing. She has learned all of their names and given them all voices. They talk and have conversations and let her be little; they indulge her to enjoy her childhood. It is even cooler when she lets mommy and daddy in on the party and we all get to add our voices and fun. We have become a Shopkins family and love it!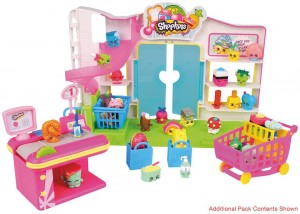 About Shopkins
Shopkins is a line of adorable, miniature, grocery-themed collectibles for girls aged four to seven that come with mini shopping bags and baskets. The brand has achieved phenomenal success in the short time since its launch, selling out on Walmart.com in two days, and selling over 2.4 million characters. Not just a hit in the US, production is struggling to meet global demand for the product across Australia and the UK with stock shortages being resolved by airfreighting. The Shopkins brand also includes a series of webisodes on YouTube which have received over 4.6 million views in just 12 weeks. Another top toy for the holidays, the Shopkins toys made Time to Play Magazine's Most Wanted List and The Toy Insider's Hot 20 List for the 2014 Holiday Season.
Connect with Shopkins: Shop | Facebook | Twitter

Disclaimer: This product was received from the Company for review purposes only. All thoughts and words in this post are my own and I was not paid to endorse it. I am only voicing my opinion of this product.