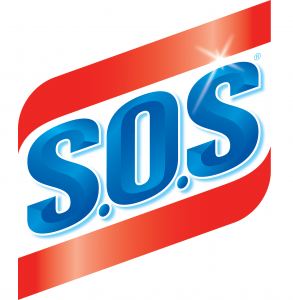 You've probably heard of S.O.S® Soap Pads – many of us remember growing up with a box of these soap-filled steel wool scrubbers under the sink. And now that we have our own kitchens and dishes to keep clean, many of us have learned that S.O.S is still the best game in town for cleaning crusty, baked-on cookware. But steel wool pads aren't recommended for use on certain types of cookware – non-stick, enamel and anodized, for example – so the experts at S.O.S have come up with a new product that's safe to use on all cookware.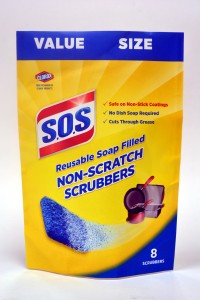 New S.O.S® Non-Scratch Scrubbers are gentle-touch reusable scouring pads made from synthetic scrubbing fibers rather than steel wool, so they're not only soft in your hands but also safe to use on non-stick coatings and other delicate surfaces. With the scrubbing power of S.O.S and the same soap that people have trusted for almost 100 years built right in, an evening's worth of caked-on cookware is no problem – simply wet the pad and scrub.
So whether you've got cheese scorched onto your favorite non-stick pan, a messy lasagna on your best fine china or cherry red lipstick on a delicate wine glass, S.O.S® Non-Scratch Scrubbers have got you covered. They're a great new dish scrubbing tool to save you time – and some elbow grease – when facing a mountain of dishes.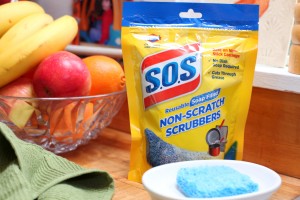 S.O.S® Non-Scratch Scrubbers are now available in 4-count and 8-count packs at select grocery stores and mass retailers nationwide. For more information on these new cleaning powerhouses, visit www.sosclorox.com/products/non-abrasive-kitchen-scrubber/.
Happy Scrubbing!
P.S. For cleaning tips & tricks and more, be sure to like S.O.S on Facebook and follow them on Twitter!